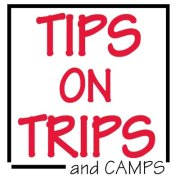 The bottom line is that camp is one of the greatest gifts you can give to your child, so try to make packing an easy, fun and stress-free part of the whole camp experience!
Baltimore, Maryland (PRWEB) May 05, 2015
Now that you have made the great decision as a parent to send your child to overnight camp, the next big decision is: What to pack for camp? Owner of Tips on Trips and Camps Eve Eifler says, "The good news is—you probably have many of the things you need already, so don't panic! Take the camp packing list - usually found on the camp website or in the welcome packet - and see what you already have around the house before rushing off to the stores."
Co-owner of Tips on Trips and Camps Carey Rivers says the first, big question is, "Does the camp suggest living out of a trunk or packing in duffle bags? If duffels are suggested, then the camp provides drawers or cubby space, so you might want to ask a camp representative if there are any cubby organizers that they would suggest."
Trunks tend to get bought up early in the summer so, even if your child is headed to camp for second session or later in the summer, Rivers suggests getting this purchase done as soon as possible.
Eifler reminds parents that if you want your child to have fun and not to have to worry about ruining anything, send older clothes. She says, "Don't worry about sending the latest and greatest outfits. Save those outfits for the first day of school!"
Rivers stressed the importance of socks, t-shirts and underwear. She jokes, "Camp laundry seems to feed off of kids' socks, so they are always running out. So, send an extra bag of white socks. And, speaking of socks, I tell parents to tell their kids to leave their camp socks at camp. They get so filthy, they would never come clean again and, most likely, they are bringing home someone else's."
She also suggests sending a package of white t-shirts because "one can be used for a tye-dye activity, one can be used for all of their friends to sign, and one maybe as a clean shirt option when their laundry bag is weighing heavy." She says you can never have enough underwear!
Eifler tells parents to ask the camp how often they offer laundry service so that you don't over pack for camp. She says, "Most likely, you will only need to pack enough clothes for 1-2 weeks."
Climate plays a factor too. Depending on the climate, your child may want to layer up in the mornings and evenings. Rivers says, "Your kids will probably want to shed their sweatshirt very quickly as the day warms up, but a sweatshirt or hoodie can feel awfully good in the morning for breakfast or at night around the campfire!"
Rain is often an unexpected part of the camp experience, so send a rain poncho and rain boots, since camps often become muddy pits after a good hard rain. Eifler says, "The boots can also double as their riding shoes if horseback is offered at camp."
And, then there are the items that are NOT on the packing list. Rivers reminds, "Some summer camps have special dress up days, so you might need a special outfit or costume for a themed event. Funny hats, glasses or socks are always a welcome addition to the regular packing list. Also, find out if there is a color war and pack handkerchiefs and t-shirts in those colors, so your child is ready to compete."
Eifler reminds parents to label everything. Parents can do this as simply as using a sharpie marker or they can use sewn-in or iron-on labels. She says, "Even with labeling, however, expect that your child will come home with someone else's underwear and visa versa."
After your child comes home from camp, Rivers suggests to pack away things in the duffle or trunk for next summer, including flash lights, fans, laundry bags, water bottles, mess kit, etc. She says, "When next summer rolls around - and it does come quickly - you will be ahead of the game!"
Eifler summarizes, "The bottom line is that camp is one of the greatest gifts you can give to your child, so try to make packing an easy, fun and stress-free part of the whole camp experience!"
For additional information on summer camp information and resources, visit http://www.TipsOnTripsAndCamps.com.