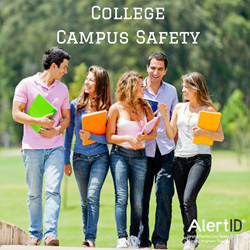 When students are aware of the dangers on and around campus, they can take the necessary steps to prevent becoming victims. There is power in numbers and when students share information on AlertID, everyone can stay informed and safe
Las Vegas, NV (PRWEB) April 21, 2015
According to a Center for Disease Control survey, as many as 1 in 5 women experience some form of sexual assault during their college tenure. In a recent Washington Post analysis of federal campus crime data published July, 2014, more than 3,900 cases of sexual violence on campuses nationwide were reported in 2012, up 50 percent over the prior three years. As a result of this increasingly serious problem, AlertID and the National Crime Prevention Council (NCPC) are working together to offer their free mobile app and prevention tips to help protect students.
"You can live safer and be smarter both on campus and off if you remain aware of your surroundings and follow a few basic prevention tips," said Ann M. Harkins, NCPC President and CEO.
AlertID offers an app to arm students with the information they need to stay safe. Once students download the app, they can view a map of recent criminal activity and presence of sex offenders in the area as well as review prevention tips from the National Crime Prevention Council. Additionally, the app offers the ability to receive timely crime alerts, when a new offender moves in to the area, and includes a virtual "campus/neighborhood watch" that can help to keep students safe.
"When students are aware of the dangers on and around campus, they can take the necessary steps to prevent becoming victims. There is power in numbers and when students share information on AlertID, everyone can stay informed and safe," said AlertID Founder, Keli Wilson.
Please review the following 6 safety tips to help keep students safe on and around campus:
1. Be alert to what goes on around campus. Download the AlertID app and enroll for an account to receive alerts near your dorm, apartment and on campus.
2. Use the Buddy System. Don't walk alone if possible, especially at night.
3. Stay in well-lighted areas while walking at night, and entering and exiting buildings. If an area feels unsafe, chances are that others feel the same way. Inform the campus police and let them help make things safer on your campus.
4. Lock your dorm room or apartment. Something so simple and quick can make a huge difference in your safety.
5. Never leave a drink unattended. If you are drinking alcohol, be cognizant to make sure that no one adds a date rape drug to your drink.
6. Report any suspicious activity observed on campus to the campus police or local police when off campus.
About AlertID
AlertID, your neighborhood safety network, is free to use and helps protect families and neighborhoods. AlertID's mission is to help people live safely by providing a secure way to receive trusted public safety alerts and share information with family members and neighbors. AlertID uses technology to help citizens and federal, state and local authorities share information about crime, sex offenders, natural disasters, missing children and severe weather that can threaten public safety. AlertID is accessible to members online as well as by email and mobile app. For more information visit http://www.AlertID.com.
About the National Crime Prevention Council
The National Crime Prevention Council is the nonprofit leader in crime prevention. For more than 30 years, our symbol of safety, McGruff the Crime Dog®, has delivered easy-to-use crime prevention tips that protect what matters most—you, your family, and your community. Since 1982, NCPC has continuously provided the American public with comprehensive educational materials, training programs, and effective crime prevention messaging, delivered in large part through its vast network of more than 4,600 state and local law enforcement agencies, crime prevention associations, community groups, foundations, and corporate partners. For more information on how NCPC can be a public safety expert for you or how to "Take A Bite Out of Crime®," visit http://www.ncpc.org.