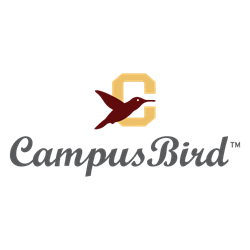 We chose to partner with CampusBird because their technology provides a rich, interactive mapping experience that can enhance university mobile apps
Boulder, Colorado (PRWEB) March 30, 2016
CampusBird, the leading interactive campus mapping platform, today announced its integration with Modo Labs' Kurogo Mobile Campus Solution, the leading mobile campus engagement and communications platform for universities.
The integration allows joint customers to provide a single comprehensive mobile app for students, parents, staff and alumni, with seamless, one-tap access to the school's CampusBird interactive map as an embedded part of the Modo mobile campus app. Additionally, the CampusBird / Kurogo integration enhances the ability of admissions, marketing and other departments to promote their unique campus experience with mobile-ready virtual tours, photos, directions, campus information, and more.
"We're excited to be partnering with Modo Labs - a leader in the mobile higher education space with advanced technology for creating powerful mobile campus engagement solutions," said Oliver Davis, CEO of concept3D, the developer of CampusBird. "This opportunity has further demonstrated the flexibility of CampusBird and the ability to embed our platform into the Kurogo interface and allow schools to present CampusBird as a native app experience."
CampusBird is an interactive mapping platform specifically designed and built for schools and higher education institutions and powered by a flexible and easy-to-use map content management system. Schools of all size including Arizona State University, Carnegie Mellon University, Middlebury College and more than 250 others use CampusBird to create, promote and manage campus information including virtual campus tours, 360-degree indoor and outdoor panoramas, global alumni networks, and local attractions on- and off-campus, among many other applications.
"We chose to partner with CampusBird because their technology provides a rich, interactive mapping experience that can enhance university mobile apps," said Stewart Elliot, Modo Labs' CEO. "The ability to seamlessly integrate with third-party solutions is one of the unique strengths of the Kurogo Platform. Combining CampusBird's mapping technology into a Kurogo Mobile Campus app will give our joint customers more options for creating interactive and compelling mobile experiences."
Modo Labs' Kurogo Platform is best known for its extensive mobile app assembly, administration and communication features that empower any type of user - whether technical or non-technical - to quickly create extraordinary campus apps that engage users with the right information, when they need it and where they need it. It is used as the mobile campus solution for many of the most recognizable universities in North America, including MIT, Harvard, Princeton, Notre Dame, NYU, Georgetown, University of North Carolina, and hundreds of others.
About CampusBird:
Built by concept3d, a leader in location-based media services and applications, CampusBird is the world's most powerful interactive mapping system for schools and higher education institutions. Used by more than 250 schools worldwide, CampusBird's easy-to-use map management system allows admissions, marketing, facilities and other departments to create and display custom media including 3D models, 2D overlay renderings, spherical/street view imagery, interactive tours, video and more. Learn more at http://www.campusbird.com.
About Modo Labs:
Modo Labs offers a complete mobile solution that empowers ordinary people to create extraordinary campus apps. Any non-technical person can create a mobile experience in hours that engages students or employees. Pre-built modules leverage any data (indoor and outdoor maps, courses, social, video, dining, transit, athletics and more) and deliver it to a central campus app for a deep integrated user experience. Simple authoring tools make it easy to dynamically create and instantly deploy any other event or activity module across all mobile channels, such as for admissions, orientation, benefits, and more. Hundreds of universities and organizations in more than 30 countries use solutions from Modo Labs to deliver rich mobile websites and native apps. Modo Labs is headquartered in Cambridge, MA. Interested parties can learn more about Modo Labs at http://www.modolabs.com.