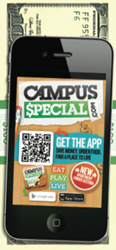 You can only eat so many ramen noodles. We want to help students to get off campus now and then and afford a meal without breaking their budget.
Atlanta, GA (PRWEB) September 10, 2013
According to classesandcareers.com, the average college student has an annual food budget of $2,800 a year including beverages. Do the math. It's not pretty. That comes out to about $54 a week. Campus Special thinks this budget is a crime against good eats, good stuff, and fun, so they are introducing a new upgraded app that helps bridge the budget gap by providing hundreds of dollars of savings at great places to eat and shop, whether it's on premises or online. There's even a feature that helps students find off-campus housing.
Campus Special CEO Chau Nguyen says, "You can only eat so many ramen noodles. We want to help students to get off campus now and then afford a meal without breaking their budget. We want to provide students with a way to quickly order great food for delivery on our app while they are cramming for a test. Our coupon books also offer the same big savings at restaurants and stores. But did I mention the app? Get the app," said Nguyen.
The upgraded app has a fresh new look and includes great features like:

Alerts for special offers via push notifications
Order food online for delivery from your favorite restaurants
Digital punch card for deals at your favorite restaurants
Social media integration with Facebook and Twitter
Apartment finder
Photos and videos of businesses with hours/directions
Browse local restaurant takeout menus
The Campus Special app provides students with tons of new deals and immediate access to great delivery, take-out, and get-off-campus meal deals. No smartphone? Then check out the deals on our website. And if students would rather go retro and see the savings on paper, Campus Special distributes printed coupon books at university bookstores for the price of – free. Because what's the point of paying money to save money if you only have $54 dollars a week to spend on food and beverages?
Getting better deals for fellow students and herself is what drove University of Kentucky Junior Beth Guinn to earn the #1 over-achiever spot out of 600 Campus Special interns across the country. "We have doubled the number of deals available this year to students on our campus. For upperclassmen, this means there is a great deal to be found at all the great places we already love. For freshman, the deals available in our coupon books, online food court, and the app are like a Campus 101 about where to eat and shop. Plus, the GPS feature on the app can help you find your way around," said Beth.
Campus Special has been named four times in a row to the Inc. Magazine's list of fastest growing companies in America. In the past year, 150 colleges and universities have been added to the network for a total of 500 schools nationwide. "That's a 45 percent increase. The high adoption rate tells us that the network we are building for students to save money is filling an important niche," said Chau.
As students start arriving on campus, they will not likely find that food prices have begun magically going down. It's a challenge to live on a student budget. Campus Special is dedicated to helping students find bargains on food, shopping, and entertainment to stretch the college experience.
About Us:
What makes life on campus come alive? Getting off campus now and then. Campus Special handpicks the best places for students to eat, shop, sleep, and have fun. Then we make budget-stretching deals with the vendors. It's a win-win. Stores and restaurants get flocks of students to visit them and students can quickly find cool new places to eat and shop. You can even order up food delivery on our website or app.
Inc. Magazine has named Campus Special one of the fasting growing new companies for four years running. We now operate in 500 campus towns and are growing every week. World campus domination, here we come.