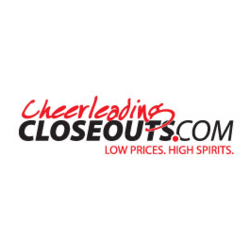 While our prices are always the lowest around, customers will never see such a great deal like this.
San Diego, CA (PRWEB) September 06, 2013
As a continuation of its recent sale and new markdowns, outlet website Cheerleading Closeouts is featuring a major markdown on a cheer shoe. Powered by cheer apparel retailer Campus Teamwear, Cheerleading Closeouts is offering its email subscribers an 84% discount on the Chassé Flip II cheer shoe. Marked down from $56 to $8.97, the low price runs only until 11:59pm PST on September 16, 2013.
"While our prices are always the lowest around, customers will never see such a great deal like this. Rarely, if ever, can you find such a great cheer shoe for less than $10," commented Melissa Darcey, Campus Teamwear marketing specialist.
Many of Cheerleading Closeouts' deals and sales are only offered to email subscribers and social media fans. Email subscribers are the first to find out about deals and sales, including this shoe sale, meaning they have the best chance of shopping last chance items that quickly sell out. In order to access sale prices or offers, customers must click through the email they receive.
Earlier this month, Cheerleading Closeouts held a Labor Day special, offering email subscribers a 97¢ shipping special.
"Through our emails, our customers find out when we have new items and sales, giving them a better chance of snagging the best deals. We recommend that all our customers sign up for emails so they too can stay up-to-date," said Jessica Rzeszut, Campus Teamwear marketing manager.
To subscribe to emails, visit Cheerleading Closeouts' email sign up page.
About Cheerleading Closeouts:
Cheerleading Closeouts launched in 2013, and is a division of Campus Teamwear. The website offers a wide variety of in-stock, high-quality cheer gear and apparel on final sale and available in limited color options and quantities at an exceptional value.
About Campus Teamwear:
Low price leader Campus Teamwear has been meeting the needs of the cheerleading industry for over 20 years by offering an extensive selection of in-stock uniforms and apparel, shoes, accessories, performance makeup and more. If you have any questions, please contact us at 1-800-871-0063 or email us at customerservice(at)cheerleadingonline(dot)com.