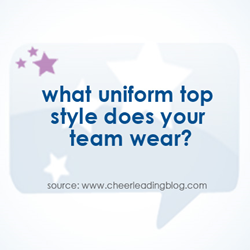 The poll results were really intriguing because they contradicted what we see in the media.
San Diego, CA (PRWEB) March 03, 2014
For its most recent monthly poll, Cheerleading Blog asked cheerleaders what style of uniform top their teams wear. The poll ran for the month of February and more than 225 readers voted. The final results were revealed on the blog on February 28.
According to the online poll, the most popular uniform top style is long sleeve, which came in with 36% of the votes. In close second was the option "sleeveless with a bodyliner." The least popular style was "sleeveless."
"The results were really intriguing because so often in the media, the stereotypical cheerleading uniform is a sleeveless top and skirt. However, in the real world, that's not accurate. As trends change, we're seeing long sleeves becoming more and more popular," said Melissa Darcey, Cheerleading Blog editor.
Cheerleading uniforms were a big topic for Cheerleading Blog over the past month. Along with articles and the poll, its magazine CheerLiving™ released an episode of its popular web series, the CheerLiving™ Show, which focused on how to choose a cheer uniform provider. Campus Teamwear, a cheerleading retailer that sells a variety of cheer uniform styles and brands, is a sponsor of the blog, magazine, and show, frequently offering readers and views insider tips.
"It's really important for cheerleading squads to know how to find the best cheerleading uniforms for their budget. Too often, squads pay more than they have to because they didn't research all the options. We're always working with Cheerleading Blog and CheerLiving™ magazine to offer our advice on what to look for in a uniform and how to find the best deal," said Jessica Rzeszut, Campus Teamwear marketing manager.
Not only does Campus Teamwear sell uniforms with a lowest price guarantee, the retailer also provides exclusive sales and discounts to its email subscribers.
To view the rest of the poll results or to vote in the new poll, visit Cheerleading Blog.
ABOUT CHEERLEADING BLOG:
Cheerleading Blog is the official blog supported by industry leaders Omni Cheer®, Campus Teamwear®, Chasse®, Fund2Raise® and Glitterbug® Cosmetics.
ABOUT CAMPUS TEAMWEAR:
Low price leader Campus Teamwear has been meeting the needs of the cheerleading industry for over 20 years by offering an extensive selection of in-stock uniforms and apparel, shoes, accessories, performance makeup and more. If you have any questions, please contact us at 1-800-871-0063 or email us at customerservice(at)cheerleadingonline(dot)com.