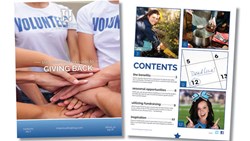 We want to support cheerleaders everywhere, as they support their communities.
San Diego, CA (PRWEB) January 17, 2014
Cheerleading Blog University released its 39th eBook called The Cheerleading Guide to Giving Back. This latest guide provides information on the benefits of giving back to the community, as well as various ways to get involved, and examples of cheer squads in action.
"Over the years, we've read so many incredible stories of cheer squads getting involved with charity projects and making a difference in the world. We wanted to publicize some of the great stories, as well as enlighten readers on how they too can help in their own unique way," said Cheerleading Blog editor, Melissa Darcey.
Cheerleading Blog created the University in 2011. In partnership with Campus Teamwear, Cheerleading Blog has provided cheer news, tips, tutorials, and advice for cheerleaders, cheer parents, and coaches for years, having recently celebrated its fifth anniversary. Campus Teamwear is also a sponsor of Cheerleading Blog's magazine, CheerLiving™, which launched in July, as well as CheerLiving™'s YouTube show, which premiered in September.
"We love working with Cheerleading Blog as we both share a common goal: to provide cheerleaders with the best and latest news, information, and tips. We want to support cheerleaders everywhere, as they support their communities," commented Jessica Rzeszut, Campus Teamwear marketing manager.
The Cheerleading Guide to Giving Back is now available for download on the Cheerleading Blog University website. The eBook is free to download, save, and print. The only required payment is a Tweet or Facebook post for promotion purposes. With a fresh layout, it works well as both a printout guide and an interactive digital PDF.
To download any of the eBooks or to find out more information, visit Cheerleading Blog.
About Cheerleading Blog University:
The University launched in 2012 and provides tips and answers for everything cheer, including tryouts, uniform ordering, fundraising, living a cheer lifestyle and more!
About Cheerleading Blog:
Cheerleading Blog is the official blog supported by industry leaders Omni Cheer®, Campus Teamwear®, Chasse®, Fund2Raise® and Glitterbug® Cosmetics.
About Campus Teamwear:
Low price leader Campus Teamwear has been meeting the needs of the cheerleading industry for over 20 years by offering an extensive selection of in-stock uniforms and apparel, shoes, accessories, performance makeup and more. If you have any questions, please contact us at 1-800-871-0063 or email us at customerservice(at)cheerleadingonline(dot)com.