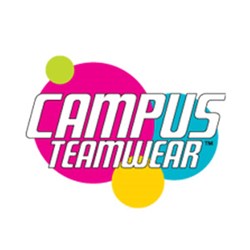 We are always excited to participate in contests and giveaways such as this one.
San Diego, CA (PRWEB) August 19, 2013
Leading cheer apparel retailer Campus Teamwear is participating in cheer magazine Inside Cheerleading's "31 Days of Giveaways" contest. The Facebook contest runs through the month of August as the school year approaches for many cheerleaders.
Campus Teamwear is providing a "Cheer Hair Pack" as one of the days' prize package, which includes a pack of three metallic hair ties, three hair bow key chains in different colors and patterns, a polka dot hair bow, and five jumbo hair bows in a variety of colors, from metallic with rhinestones to classic stars. Fans will have a chance to win the package on Tuesday, August 20.
"Cheerleaders love hair bows. They collect them, recycle them, and match them with all their outfits. We wanted to help add to their collection so their hair always looks stylish, even at practice," said Melissa Darcey, Campus Teamwear marketing specialist.
Each day during the month of August, Inside Cheerleading will be giving away items to winning Facebook fans that participate in the contest. To participate, one must share the image of the day's prize package that will be posted in the morning on Inside Cheerleading's Facebook page. At the end of the day, one winner will be selected. All prizes are valued at $50 or higher and range from cheer bags to poms to makeup.
"We frequently partner with Inside Cheerleading magazine, as they share the same goal of inspiring and promoting the cheer spirit. We are always excited to participate in contests and giveaways such as this one," commented Campus Teamwear marketing manager Jessica Rzeszut.
To participate in the "31 Days of Giveaways," visit Inside Cheerleading magazine's Facebook page. To stay up-to-date on Campus Teamwear giveaways or contests, become a fan of Campus Teamwear's Facebook page.
ABOUT CAMPUS TEAMWEAR:
Low price leader Campus Teamwear has been meeting the needs of the cheerleading industry for over 20 years by offering an extensive selection of in-stock uniforms and apparel, shoes, accessories, performance makeup and more. If you have any questions, please contact us at 1-800-871-0063 or email us at customerservice(at)cheerleadingonline(dot)com.