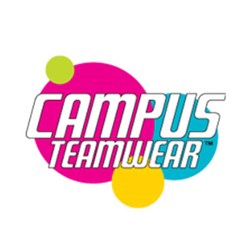 Squads with limited budgets can still afford Ion Cheer uniforms, which are affordable but stylish and durable.
San Diego, CA (PRWEB) August 15, 2013
Campus Teamwear recently released its fall catalog that includes an exclusive offer on Ion Cheer uniforms. Through December 15, 2013, customers can receive $5 off any of Ion Cheer's uniform packages using the offer code ICFP13 when ordering through the catalog or over the phone.
Currently, Campus Teamwear offers three different Ion Cheer uniform packages. The Basic package includes a shell top and a skirt. The Extreme package includes a shell top, skirt, pair of socks, hair bow, and two youth poms. The Ultra package includes a shell top, skirt, brief, pair of Chassé shoes, and two youth poms. All uniform packages are only available for purchase through the catalog and by calling the sales office.
"Many customers love shopping our uniform packages because it's the easiest way to complete a cheerleader's look without having to worry about forgetting any small accessories. Bundling allows a customer to get everything at once," commented Jessica Rzeszut, Campus Teamwear marketing manager.
Additionally, for a limited time all packages include a complimentary gift. The Basic package includes a bow, the Extreme package a brief, and the Ultra package a pair of socks and a bow.
Ion Cheer is a new cheerleading uniform brand that debuted in Campus Teamwear's spring 2013 catalog. The brand offers several styles of double knit metallic uniforms for competitive prices – two shell tops and two skirts. The uniforms are popular among youth squads and are made from a 10 oz. double knit polyester fabric. All uniforms come with a trademark cluster of embroidered stars. Campus Teamwear is the exclusive retailer for Ion Cheer.
"We are happy to be carrying Ion Cheer uniforms. Squads with limited budgets can still afford Ion Cheer uniforms, which are affordable but stylish and durable. Now, customers can spend less for more items by shopping Ion packages and using the $5 savings offer code," said Campus Teamwear marketing specialist, Melissa Darcey.
To help teams with ordering the right uniform sizes, customers can call the sales department to receive a free fit kit (a small refundable deposit is required). Customers are shipped a fit kit and receive a return shipping label at no charge.
To save even more, all phone orders of $200 or more receive free ground shipping.
Shoppers can receive a free catalog and/or sign up for emails, which include exclusive deals and offers, by visiting Campus Teamwear's website.
ABOUT CAMPUS TEAMWEAR:
Low price leader Campus Teamwear has been meeting the needs of the cheerleading industry for over 20 years by offering an extensive selection of in-stock uniforms and apparel, shoes, accessories, performance makeup and more. If you have any questions, please contact us at 1-800-871-0063 or email us at customerservice(at)cheerleadingonline(dot)com.