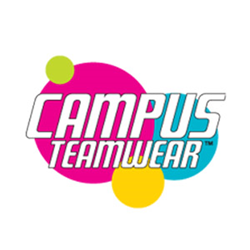 The ProFlex is an incredible new cheerleading shoe to hit the industry.
San Diego, CA (PRWEB) May 12, 2014
For the release of the new Chassé® cheer shoe, the ProFlex, Campus Teamwear® is offering customers $10 off for a limited time only. While normally $41.95, by using the promo code, customers can purchase the ProFlex for just $31.95.
The ProFlex was released with the Chassé Spring 2014 collection, which included practice wear, accessories, and a line of sublimated uniforms.
"The ProFlex is an incredible new cheerleading shoe to hit the industry. Competitive cheerleaders will love the advanced features and great price," said Campus Teamwear marketing manager, Jessica Rzeszut.
At just 5.4 oz, the shoe is ideal for competitive and All Star cheerleaders. The ProFlex has many other features that make it an advanced shoe. Its double-cushioned insole with a removable pad provides the wearer a perfect fit. The nylon mesh upper provides breathability and comfort. The rubber toe and heel pods provide grip and durability, which is good for both bases and flyers. The competition-grade blown EVA Phyon-tec outsole absorbs shock from hard landing and provides the ultimate flexibility, stability, and lasting comfort.
The shoe also comes with its own eco-bag, which can be reused as a bag to carry cheer accessories and shoes. The bag also cuts down on boxes and packing used during shipping.
The Chassé ProFlex is now available for purchase at Campus Teamwear. The promo code is available to fans of Campus Teamwear's Facebook page and can be used for online purchases. To order via the Sales department, a separate promo code is listed in the latest Campus Teamwear catalog. The promo code is valid through August 15, 2014 and cannot be combined with other offers.
ABOUT CAMPUS TEAMWEAR:
For over twenty years, Campus Teamwear has supplied athletes with apparel, gear and accessories. The sportswear retailer guarantees the absolute lowest prices on high-quality items, including uniforms, warm-ups, shoes, practice wear, fundraising items, and body basics. To learn more, please visit the online store.
ABOUT CHASSÉ:
Chassé is a leader and innovator in the world of cheerleading, committed to providing affordable and high-performance apparel and accessories to cheerleaders of all ages.