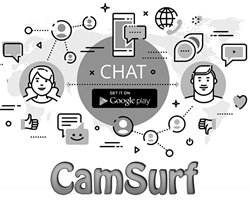 With no login, a simple interface, and high speed connections we believe that Camsurf is the most enjoyable way to meet new people via your mobile device
Los Angeles, CA (PRWEB) October 24, 2016
Simplicity is the key behind the success of new Google Play video messaging service, Camsurf. A portable version of random chat similar to Chatroulette, the easy to use video chat service requires no log in or connection to a social media account and allows users to chat with a never ending stream of total strangers one on one using the camera on their smartphone or tablet device. Once the free chat app is opened, users just tap on the "Start" button and are immediately launched into a face to face video encounter with a stranger.
Uncomplicated, but hugely satisfying in an age where meeting strangers online is a favorite pastime of many, as proven by the success of apps like Tinder, users can chat, wave, flirt, or sing with the person they are connected to using their microphone. There is also the option to chat using the text box or to click on the large "Next" button and move on to another exciting random connection. The social app also provides users with the option of only connecting with people from a certain country, perfect for those wishing to speak a certain language, chat with someone local, or take a peek inside the life of someone on the other side of the world.
"Our aim was to create an app that offers both a fun and easy way to socialize with people from around the world", said Camsurf Co-Founder, Allen Fox, "With no login, a simple interface, and high speed connections we believe that Camsurf is the most enjoyable way to meet new people via your mobile device."
Since release, the Camsurf app has been downloaded over one million times on Google Play and received over 10,000 ratings. Traffic for Camsurf has also quadrupled in the past month, rising from one million visitors in July 2016 to over four million visitors in August 2016. The addictive app has been praised not only for its simplicity, but also as a throwback to the early days of the internet before a log in was required for every service and people could happily chat with random strangers anonymously in text based chatrooms.
"The excitement of not knowing who will show up on your screen next is one that satisfies a basic curiosity in people", said Camsurf Co-Founder, Allen Fox, "And the urge to keep meeting new people on Camsurf is what makes the service so addictive".
About Camsurf
Camsurf is a free, easy to use video chat messenger service where people can use their webcam to make new friends, find love, learn a new language, or discover a new culture online. Camsurf offers a lightweight and simple video chat platform, the ability to filter users by country, and a free mobile app for chatting on the go. Camsurf makes a stand against cyberbullying and harassment through its Safe Space campaign.