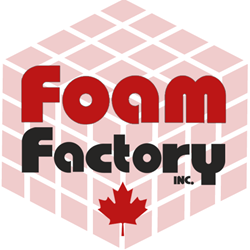 Macomb, MI (PRWEB) April 29, 2015
Always looking for ways to give customers the most luxurious and comfortable night's sleep possible, Foam Factory, Inc. has introduced a brand-new covering option, now standard with most memory foam and all-natural Talalay latex mattresses! The Poly-Cotton Knit Cover provides a smooth, plush surface that protects a new foam investment, while ensuring a full range of comfort, support, and pressure-relief benefits from the bedding.
Selected for their ability to flex with the surface of the body-contouring foam without being too elastic, these covers are currently available in Twin, Full, Queen, King, and California King sizes, with plans to introduce Twin Long and Full Long cover sizes in the near future. For Foam Factory, Inc.'s all-natural Talalay latex, 3LB ViscoSAVER, 4LB ViscoPLUSH, and 5LB ViscoMAX mattresses, this new cover will be included free with the aforementioned available sizes. Previous offerings, the Gray and White Striped Cover and Terrycloth Cover, will still be available as options as well.
While it's important to protect a foam mattress from wear and tear, comfort is just as big of a priority for a cover. After all, few people want to buy a brand-new mattress, just to have the cover it comes with undermine their enjoyment and ability to get a great night's sleep. With this in mind, Foam Factory, Inc. selected the Poly-Cotton Knit Cover because of its comfortable blend of 25 percent organic cotton and 75 percent polyester. This helps give the material the durability needed to stay in great shape, while still being soft to the touch.
Keeping mattresses covered is important for a few reasons, and this is why Foam Factory, Inc. ships their memory foam and latex mattresses with the new standard Poly-Cotton Knit Cover. First of all, covers help reduce wear and tear. One of the biggest enemies of foam bedding is friction, since it can wear down the material's surface. Having a cover in addition to the standard sheets minimizes the friction that can age a mattress prematurely.
Another benefit is the protection it offers from moisture. Foam is a very absorbent material, and when mattresses get wet, they are very difficult to dry, which can lead to issues like musty smells, mildew, or similar irritants. Covers help protect the mattress from things like spilled water, accidents from pets, and the sweat and oils the body naturally exudes throughout the night. The prevention of minor damage keeps small issues from compounding and causing larger problems that may result in the need to replace a mattress down the road.
In addition to mattresses and mattress covers, Foam Factory, Inc. stocks a full line of comfort and support products, as well as open-cell and closed-cell foam sheets for use in both industrial and residential applications. For more information on their new Poly-Cotton Knit Cover, or any of their other products, contact Foam Factory, Inc. at (586) 627-3626, or visit their web site, Canada.FoamByMail.com.