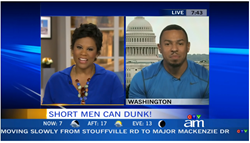 Ft. Lauderdale, FL (PRWEB) October 09, 2013
Brandon Todd had an opportunity to talk to Marci Ien of CTV Canada AM about his new documentary and his fitness programs. You can watch the video here.
Brandon was candid about being able to show anyone how they can increase their vertical. "With the right training, and diet anything is possible," says Brandon.
Brandon's program is a 22 week fitness routine. You work out 4 times a week for about an hour. It's an intense hour, but if you can get through it, most people will dunk within 12-16 weeks. That's a very short amount of time to improve your basketball skills. Whether it's dunking or being a better rebounder, the program will help anyone that takes sports seriously.
Brandon recently released his Android app with the help of his collegeus at Lexis Health. For android users, the app can be downloaded here.