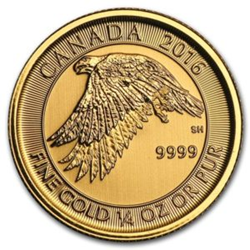 For gold and silver investors seeking greater diversification and security, the 1/4 ounce 2016 Canadian Gold Snow Falcon and 1 1/2 ounce 2016 Canadian Silver Snow Falcon promises to be one of the most attractive bullion investments in recent memory.
Calabasas, CA (PRWEB) February 08, 2017
GSI Exchange, a leading online precious metals dealer specializing in gold and silver coins and bullion, recently announced the release of a limited quantity of brilliant uncirculated 2016 Canadian White Falcon coins (also known as Snow Falcon coins or Gyrfalcon coins), including the 1/4 ounce Gold Gyrfalcon coin and the 1 1/2 ounce Silver Gyrfalcon coin.
"For coin collectors who appreciate the artistic beauty and expected rarity of this unique issue and for gold and silver investors seeking greater diversification and security, the 1/4 ounce 2016 Canadian Gold Snow Falcon and 1 1/2 ounce 2016 Canadian Silver Snow Falcon promises to be one of the most attractive bullion investments in recent memory," according to Anthony Allen Anderson, Senior Partner at GSI Exchange. "Best of all, the Gyrfalcon coins are of the highest quality and qualified to be included in a Gold IRA or Silver IRA."
Produced by the Royal Canadian Mint, the 1.5 oz 2016 Silver White Falcon is the fourth release in the 1.5 ounce series of coins featuring the wildlife of the Canadian Arctic. The Silver Snow Falcon coin is 99.99% silver and is eligible for inclusion in a silver IRA account.
The .25 oz 2016 Gold White Falcon by the Royal Canadian Mint, is 99.99% gold and also eligible for inclusion in a gold IRA account.
The coin's obverse, designed by Susanna Blunt, features Queen Elizabeth II shown in right-side profile. The coin's reverse, designed by Canadian artist Steve Helpburn, features a white falcon (or snow falcon), a large bird of prey, in flight, set against a striking background pattern.
In 2016, for the first time ever, the Royal Canadian Mint instituted a unique Bullion DNA process to protect buyers and sellers of Gold and Silver bullion from coin counterfeiting. The Bullion DNA device works by reading a micro-engraved security mark appearing on the reverse of the coin. The mark, consisting of a textured maple leaf and the last two numerals of the coin's production year, visible only under magnification, is laser-engraved on the dies which are used to strike these coins. Each die is registered in a secure database after a microscopic view of the mark is captured and converted into a complex, encrypted digital code using the Mint's digital non-destructive activation (DNA) technology. When a genuine coin is placed in the Bullion DNA device, it can read the security mark like a fingerprint and match it to a registered Royal Canadian Mint die.
The expected low-mintage, unique anti-counterfeit protections and high collector and investor interest in these coins can contribute to price appreciation that is significantly greater than the spot value of their respective metals.
2016 sales for the American Gold Eagle, at 984,500 ounces, was the highest year-end total since 2011. While high demand can contribute to appreciation above spot price, the supply can limit potential growth. Premium over spot is a direct reflection of a coin's supply and demand. High supply typically means a coin's valuation will be closer to the prevailing spot price.
Collector and investor interest has resulted in significant price appreciation for other recent limited strike coin issues. For example, the Royal Canadian Mint Issued, 2011 Canada 1 oz. Silver Wildlife Series "Wolf" and the US Mint issued, 2012 5 oz Silver America the Beautiful (ATB) "Hawaii Volcanoes National Park" coins. These silver coins currently sell for 2 to 4 times higher than the comparable price per ounce of spot silver.
"Demand is currently very high for bullion and collectible precious metals have recently begun surging under President Donald Trump. It wouldn't be surprising if the Gyrfalcon coins enjoy comparable price appreciation in the coming years," said Anderson.
GSI Exchange is launching a new promotion to highlight investor interest in gold and silver coins. Prospective buyers can enjoy an additional five percent discount on their initial purchase by visiting:
https://gsiexchange.com/Canadian-White-Falcon-Coin/
About GSI Exchange
Founded by industry veterans, GSI Exchange is a leading national coin and precious metals company based in Calabasas, California. The firm specializes in wholesale precious metals trading as well as direct sales to the general public. GSI Exchange enjoys 5-star reviews from its clients and is an accredited, A-rated company with the Better Business Bureau. The GSI Exchange investment management team has over 75 years of combined market experience and relationships with most of the largest suppliers around the world.
With experience successfully placing more than $1 billion in commodities and precious metals transactions around the world, GSI Exchange offers clientele a full range of customized precious metals portfolios and physical possession precious metals IRA accounts.
GSI Exchange has an almost unlimited inventory of the highest-quality silver, gold, palladium and platinum coins at the most competitive prices.
For more information, visit https://gsiexchange.com or call 1.800.765.7188.