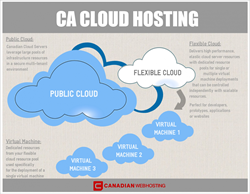 We want to give customers cloud hosting that delivers the best of Canada with 100% Canadian storage with a flexible framework that supports their IT needs
Vancouver, BC (PRWEB) March 12, 2014
Canadian Web Hosting (http://www.canadianwebhosting.com), a leading provider of web hosting, cloud hosting and infrastructure as a service in Canada, announced that they have expanded their Flexible Cloud to support multiple Canadian geographic zones. Canadian Web Hosting's Flexible Cloud hosting delivers customizable cloud hosting and cloud storage that is 100% Canadian. Each Flexible Cloud delivers performance certified cloud infrastructure for applications and websites that can easily handle increases in traffic and resources.
Canadian Web Hosting's Flexible Cloud works by allowing customers to purchase dedicated resource pools that give them the ability to spin up one or multiple virtual machines using custom or prebuilt templates in less than 60 seconds. Unlike standard cloud servers that are preset single servers, the Flexible Cloud allows users to customize their cloud servers into whatever size or configuration they require by using a dedicated cloud resource pool. Customers can use their own server images, create new images, or build VMs with more than 150 different application and OS templates. In addition, customers can upgrade in real time as more resources are needed. Flexible Clouds are ideal for customers and developers who want to easily build test servers, development servers and production cloud servers and have advanced features like auto-scaling and failover included.
"As we build out our Canadian Cloud, we want to give customers inside and outside of Canada choices that deliver the best of Canada, including 100% Canadian storage, with the ability to choose the type of cloud hosting that makes the most sense for their business and customers," said Matt McKinney, Director at Canadian Web Hosting. "Today, customers have a range of different cloud hosting options with the choice to host at the data center of their choice in our Canada West or Canada East zones. And with some recent updates, customers now have access to our Cloud Connect Control Panel that allows them to manage all their servers through a single pane of glass."
Canadian Web Hosting helps IT organizations execute on their cloud hosting and cloud computing plans. Their CA Cloud infrastructure now includes flexible cloud hosting options that range from cloud shared hosting, SSD cloud servers, private clouds, as well as upcoming releases that include a massive new openstack powered public cloud and a Canadian storage service similar to Dropbox, but with 100% Canadian storage.
You can learn more about Canadian Web Hosting's by calling 1.888.821.7888 or emailing sales@canadianwebhosting.com for more information.
About Canadian Web Hosting
Since 1998, Canadian Web Hosting has been providing on-demand hosting solutions that include Shared Hosting, Virtual Private Servers (VPS), Cloud Hosting, Dedicated Servers, and Infrastructure as a Service (IaaS) for Canadian companies of all sizes. Canadian Web Hosting is SSAE 16 Type II SOC 1 certified ensuring that their processes and business practices are thoroughly audited against industry standards. Canadian Web Hosting guarantees a 100% network uptime, and a total money back guarantee that backs everything they do. Customers can get help by calling 1-888-821-7888 to get 24/7 support. For more information, visit them at http://www.canadianwebhosting.com, or get the latest news by following them on Twitter at @cawebhosting.