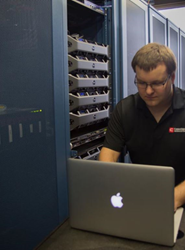 Our goal was to deliver IPv6 and ensure our web hosting customers get the best performance, lowest latency and have the ability to grow their business over the long-term.
Vancouver, British Columbia (PRWEB) June 30, 2014
Canadian Web Hosting, the leading provider of web hosting, cloud hosting and Infrastructure as a Service (IaaS), announced the support of IPv6 across their web hosting, cloud hosting and network enabled services including enhanced address availability, routing and auto-configuration. As one of the first Canadian web hosting providers to bring IPv6 compatible web hosting to the marketplace, customers can deploy their apps, web sites and infrastructure with the confidence and future benefits that Ipv6 provides.
IPv6 is the next generation protocol for the internet, minimizing the exhaustion of available IPv4 addresses. From the outset, IPv6 was designed to run on high performance networks like Canadian Web Hosting's Canadian-based network backbone, and by enabling IPv6, Canadian Web Hosting customers will also benefit from new security and reliability protocols that significantly increase the quality of their web hosting service without diminishing performance.
"Starting 18 months ago when we started our IPv6 integration, it was our goal to deliver a web hosting framework that significantly improved the experience of our customers. I believe that we have done that. With IPv6 support, our customers get the best performance, the lowest latency and a service that helps their business be ready for the internet of today and tomorrow."
Matt McKinney, Director at Canadian Web Hosting
Canadian Web Hosting helps IT organizations execute on their IT strategies and ensure that ready-made infrastructure is available. With IPv6, their cloud hosting infrastructure now includes options that range from cloud shared hosting, SSD cloud servers, private clouds, as well as an upcoming release of a massive new OpenStack powered public cloud that is compatible with the leading public clouds while ensuring data privacy and compliance requirements are met.
You can learn more about Canadian Web Hosting's by calling 1.888.821.7888 or emailing sales(at)canadianwebhosting.com for more information.
About Canadian Web Hosting
Since 1998, Canadian Web Hosting has been providing on-demand hosting solutions that include Shared Hosting, Virtual Private Servers (VPS), Cloud Hosting, Dedicated Servers, and Infrastructure as a Service (IaaS) for Canadian companies of all sizes. Canadian Web Hosting is SSAE 16 Type II SOC 1 certified ensuring that their processes and business practices are thoroughly audited against industry standards. Canadian Web Hosting guarantees a 100% network uptime, and a total money back guarantee that backs everything they do. Customers can get help by calling 1-888-821-7888 to get 24/7 support. For more information, visit them at http://www.canadianwebhosting.com, or get the latest news by following them on Twitter at @cawebhosting.