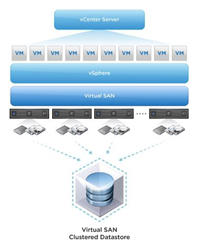 Canadian Web Hosting customers now have Canadian enterprise-grade storage with reduced costs, lower latency and the highest reliability possible.
Vancouver, BC (PRWEB) January 21, 2015
Canadian Web Hosting, Canada's leading web hosting and cloud service provider, has announced the public availability of their VMware Virtual SAN (vSAN) storage service that delivers highly available, flexible, scalable, high performance storage to their customers for their VMware-based services, including Shared Cloud Hosting, Virtual Private Servers and VMware-based enterprise cloud servers and Private Clouds.
With distributed storage, customers get enterprise-grade SSDs for high-performance read/write caching, in combination with hard drives, for cost-effective data persistence and enterprise grade reliability. By utilizing this vSAN distributed storage technology, Canadian Web Hosting is able to offer web hosting customers increased storage reliability, lower costs and greater flexibility for their server infrastructure and cloud requirements. Unlike traditional SAN hardware that utilizes RAID, vSAN leverages RAIN (Redundant Array of Independent Nodes) and can easily withstand disk or host failures, maximizing redundancy and client uptime. When added to Canadian Web Hosting's already redundant infrastructure, customers can obtain the best service levels available in the marketplace.
"Part of our evaluation of distributed storage took into account the success of our recently launched cloud computing system that leverages distributed storage. The feedback we have received has been nothing short of spectacular and customers have appreciated our efforts to build out Canadian enterprise-level storage while reducing costs that previously impacted their decision-making process. We can now offer a best-in-breed storage environment, where our customers have the flexibility and support they need to move away from slow and expensive legacy IT infrastructure," said Matt McKinney, Chief Strategy Officer at Canadian Web Hosting.
With this new storage, customers get immediate access to enterprise-grade reliability for their cloud and virtual customers, including integrated Fault Tolerance and granular non-disruptive scale-up or scale-out upgrades. As more resources are brought online, we are minimizing potential downtime and providing Canadian Web Hosting customers with hardware independence. It is easier than ever to move to Canadian Web Hosting's enterprise-grade infrastructure. Their service includes VMware shared hosting, private clouds and virtual servers with industry-best 24/7 support, safety and security of Canada's privacy regulations, all 100% Canadian-owned and operated.
About Canadian Web Hosting
Since 1998, Canadian Web Hosting has been providing on-demand hosting solutions that include Shared Hosting, Virtual Private Servers (VPS), Cloud Hosting, Dedicated Servers, and Infrastructure as a Service (IaaS) for Canadian companies of all sizes. Canadian Web Hosting is SSAE 16 Type II SOC 1 certified, ensuring that their processes and business practices are thoroughly audited against industry standards. Canadian Web Hosting guarantees a 100% network uptime and a total money back guarantee that backs everything they do. Customers can get help by calling 1-888-821-7888 to get 24/7 support. For more information, visit them at http://www.canadianwebhosting.com, or get the latest news by following them on Twitter at @cawebhosting.