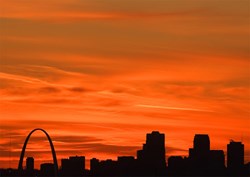 Overall, more than 192,000 Canadian visitors explored the Show-Me State in 2012, compared to 158,000 in 2010, according to Statistics Canada.
Jefferson City, MO (PRWEB) November 01, 2013
Canadian travelers know what it means to enjoy the show. According to information released by Statistics Canada, Missouri saw a 21 percent uptick in visitation from Canadian travelers in 2012, when compared to 2010.
That influx led to increased revenue for the Show-Me State, with visitors from Canada spending an estimated $54.6 million in Missouri in 2012, compared to $48.4 million in 2010. The 2012 figure represents a spending increase of nearly 13 percent.
Overall, more than 192,000 Canadian visitors explored the Show-Me State in 2012, compared to 158,000 in 2010, according to Statistics Canada.
"We're thrilled Missouri has seen an increase in visitation from Canadian travelers," says Katie Steele Danner, director of the Missouri Division of Tourism (MDT). "When marketing dollars are tight, it's difficult to be visible in a foreign market. But we continually strive to maintain a marketing presence in Canada, and it's gratifying to see those efforts are paying off."
From FY10-FY13, MDT maintained its visibility in the Canadian market with participation in high-circulation travel trade publications, group travel shows such as the Ontario Motorcoach Association annual convention, international travel conferences such as Pow Wow (now IPW) and World Travel Mart, and ongoing public relations efforts such as news releases, cooperative sales missions, media tours and destination training sessions.
In the coming months, Danner is hopeful MDT's efforts to partner with Brand USA will further enhance Missouri's brand messaging in Canada. Brand USA is the official cooperative destination-marketing organization that invests $150 million annually to promote travel and visitation to the United States.
After the success of a trial marketing campaign in eastern Canada in Spring 2013, MDT is partnering with Brand USA, Miles Media and 13 Missouri tourism industry partners in a campaign to drive visitation to Missouri through high-quality, native-language content creation and a focused, integrated media campaign in Canada in Spring/Summer 2014.
The number of Canadian travelers visiting Missouri was fairly consistent through the mid-to-late 2000s, with approximately 157,000 travelers per year from 2005-10.
Looking at the visitation numbers on a bi-yearly cycle, Missouri saw a very modest increase in Canadian visitation from 2006 to 2008 before seeing a fairly significant decrease between 2008 and 2010 (from 165,500 visitors to 158,000).
The increase in visitation from 2010 to 2012 is significant, Danner says, because it shows Missouri's tourism messages are beginning to reach a coveted audience and that travelers in that audience are responding.
"There's something about the Missouri brand that seems to be resonating with Canadian travelers," Danner says. "The numbers from Statistics Canada show more than 131,000 of the total visitors came to Missouri for vacation or to visit family and friends. In other words, they're coming for leisure travel reasons, and that's the segment of travelers we target."
Although leisure travel is the top reason Canadian travelers are visiting Missouri, work also seems to be a destination driver: Some 33,000 people came to the Show-Me State for conferences, trade shows or other work-related reasons in 2012.
Ontario, home of Canada's largest city, Toronto, is the No. 1 province from which Canadian travelers arrive, as it accounts for nearly 108,000 of the total visits.
About the Missouri Division of Tourism
The Missouri Division of Tourism (MDT) is the official tourism office for the state of Missouri dedicated to marketing Missouri as a premier travel destination. Established in 1967, the Missouri Division of Tourism has worked hard to develop the tourism industry in Missouri to what it is today, an $11 billion industry supporting more than 281,000 jobs. For more information on Missouri tourism, go to http://www.VisitMO.com.
Contact: Stephen Foutes
Missouri Division of Tourism
573-751-3208
Contact: Stephanie Lynch
Missouri Tourism News Bureau
314-454-3454