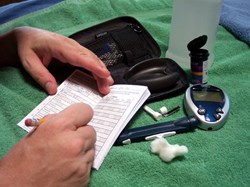 I'm thrilled that the study in November's American Journal of Managed Care is highlighting the positive benefits of using a mail order pharmacy such as The Canadian Pharmacy
Winnipeg, Manitoba (PRWEB) December 17, 2013
A study published in November 2013 in the American Journal of Managed Care indicates that patients with diabetes may experience fewer negative health outcomes compared to patients with diabetes who use their local walk-in pharmacies.
The study, entitled "Safety and Effectiveness of Mail Order Pharmacy Use in Diabetes," focused specifically on patients with diabetes because of the high risk they share of being prescribed medications that may interfere with either other medications they are taking or with their health condition. Often, lab work is also necessary on a regular basis to make sure that their medications are both appropriate and effective.
On the surface, the findings of this study may seem unlikely since a local pharmacist supposedly should have the opportunity to meet with the patient to discuss their health and monitor the medication and the lab work. What the study found, however, was that the patients who used the online pharmacies were actually less likely to have preventable emergency room visits. This may be because patients using online pharmacies are less likely to struggle with medication affordability. When medications are expensive, multiple studies have shown that patients are more likely to reduce or skip doses in order to save money or make the medication last longer, a practice that is associated with more emergency room visits.
David Zimmer, president of online Canadian pharmacy The Canadian Pharmacy, is pleased by the results of this study and hopes to spread the word that accredited online pharmacies are just as safe as local walk-in pharmacies. "I'm thrilled that the study in November's American Journal of Managed Care is highlighting the positive benefits of using a mail order pharmacy such as The Canadian Pharmacy," Mr. Zimmer said.
He went on to add, "The study also encourages patients to speak with pharmacists and make sure that they still receive regular care from their healthcare providers. This is part of our philosophy at The Canadian Pharmacy as well, and it reflects in our dedication to communication and our policy of making skilled and experienced healthcare professionals available to assist patients and answer questions."
Mr. Zimmer hopes that this new study will encourage more people to consider the convenience and affordability of ordering medication online. Mr. Zimmer also noted, while The Canadian Pharmacy provides a wide range of diabetic medications they do not ship temperature sensitive medications such as insulin.
About The Canadian Pharmacy:
Since its inception, The Canadian Pharmacy has shown a dedication and desire to provide high-quality pharmacy service combined with convenience and affordability to patients both local and international. Located in Winnipeg, Manitoba, the pharmacy is accredited by the Canadian International Pharmacy Association (CIPA) and the Manitoba International Pharmacists Association (MIPA) as well as the Better Business Bureau. The Canadian Pharmacy is also the recipient of a 5-Check rating, the highest rating available, from the independent online pharmacy reviewer PharmacyChecker.com. For more information, please visit http://www.TheCanadianPharmacy.com.