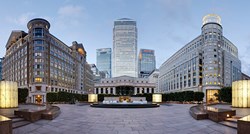 Now that the banks are making money again, we can see areas like Canary Wharf experiencing a property resurgence.
(PRWEB UK) 27 September 2013
Loxley McKenzie, Managing Director of Colordarcy said, "Four years ago, the staffing numbers at banks had halved due to the cutbacks stimulated by the banking collapse.
This led to the price of property in banking districts like Canary Wharf stagnating. Rents also fell dramatically, as redundant bankers handed in their keys in increasing numbers.
Now that the banks are making money again, we can see areas like Canary Wharf experiencing a property resurgence."
Analysts at the firm cite research from Knight Frank and the Office of National Statistics (ONS) in support of their view that demand for rental property will increase in Canary Wharf in the medium to long term as employment in the banking sector rises.
Prime central London rents are 21.3% above the low point reached in June 2009 (Source: Knight Frank, Prime Central London Rental Index, July 2013). According to analysts at Colordarcy, the continuing rise in average rents in London will have a knock-on effect on Canary Wharf.
Loxley McKenzie, Managing Director of Colordarcy comments, "As London's population continues to rise this will impact on property in Canary Wharf.
Canary Wharf is an area where employment is rising rapidly and this, combined with a shortage of available properties, will push up rents and prices.
This means that buy-to-let investors can benefit from solid capital growth in the long term as both rents and prices increase."
Colordarcy highlight research from the ONS shows that employment in the Canary Wharf financial district has almost quadrupled in the past decade despite the impact of the financial crisis.
This indicates the strong underlying strength of the banking sector. Its importance to the UK economy cannot be understated and neither can its effect on local demand for properties.
According to Colordarcy analysts, strong demand remains for available property close to places of work. The number of financial services workers in Canary Wharf has risen from 27,000 to more than 100,000 in just 10 years (Source: ONS, Regional Trends London Analysis).
London's crowded transport system will also encourage those who can afford it to move closer to their place of work rather than make the uncomfortable journey by public transport.
McKenzie added, "Property prices in London as a whole have recovered well from the downturn with most areas seeing significant prices rises.
However rents too have risen in central London due to demand and with those working in the financial and insurance sectors earning high salaries, this will push up rents in areas such as Canary Wharf."
For overseas investors, Canary Wharf represents a significant opportunity to invest in property with high capital growth prospects and a clear exit strategy.
Weak sterling and low interest rates are a strong incentive for investors from the Middle East and Singapore who can now benefit from their currencies being 10% stronger against sterling than they were in 2008.
Colordarcy are offering investors the opportunity to invest in a limited number of apartments in Canary Wharf at prices from $584,000 / £365,000.
Notes to the editor:
Colordarcy is a leading property investment company that specialises in finding positive cash flow investment properties worldwide. Their aim is to provide their clients with properties that offer the unique combination of strong growth returns and cash flow positive income.
Investing in positive cash flow property significantly reduces the risk because the property will pay for itself regardless of market conditions, employment status or other financial commitments.
Colordarcy provides complete support before, during and after a sale, including finding tenants, financial assistance, viewing trips and currency services. Colordarcy are proud members of the 'Association of International Property Professionals' (AIPP), and abide by its code of conduct, one established to protect the buyer, by ensuring members follow professional guidelines and procedures.
Colordarcy investment property portfolio includes some of the best properties for sale in Brazil, Florida, Turkey and the United Kingdom.
For more information, supporting pictures or logo artwork, please contact:
Brett Tudor
PR Manager
Tel: +44 (0) 207 100 2393
Email: press@colordarcy.com
Web: http://www.colordarcy.com/
Colordarcy Investment Ltd
28 Leman Street
London
E1 8ER