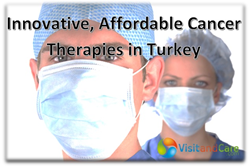 You will feel always 'at home' at every stage of your treatment. We will accompany you starting from the moment you enter the country up until you leave it.
Los Angeles, CA (PRWEB) May 20, 2014
A close collaboration between oncologists in Turkey and expert scientists is generating state-of-the-art treatments developed to offer foreign patients improved cancer care options. These valuable alliances are giving hope to patients around the globe — with the latest technology and the most innovative, affordable therapies to increase the chances of a cure.
In Turkey's most elite hospitals, expert oncologists showcase unparalleled expertise in diagnosing and treating all types of cancer. Today, more than half of all patients diagnosed with cancer can be cured, and many others will live long, meaningful lives even with their disease.
Turkey has become best known for its leading-edge cancer therapies — with devoted and compassionate doctors, nurses, and other healthcare staff solely focusing on cancer treatments.
Why Choose Cancer Treatment in Turkey
Cancer care specialists in Istanbul are bringing a unified approach to the field of oncology, with guidance through diagnosis, treatment, and recovery. Extraordinary teams of doctors are devoted to treating childhood, breast, lung, skin, prostate, testicular, head and neck cancer, gynecological cancers, brain, and many more life-altering diseases. These teams have a depth and breadth of experience that is unsurpassed.
At ROMOY Healthcare in Istanbul, the oncology center is at the forefront of state-of-the-art cancer care. Over the years, ROMOY has pioneered many surgical innovations, advancements for less post-surgical pain and faster recovery options.
The entire team at ROMOY is well aware of the difficulties in obtaining medical services in another country. The team confidently indicated, "You will feel always 'at home' at every stage of your treatment. We will accompany you starting from the moment you enter the country up until you leave it."
The center is a world-renowned health tourism destination committed to providing the highest standards in medical treatment in Turkey by uniting the most efficient treatment methods and the lowest-cost options. ROMOY offers the five-star difference. Guest suites are designed to blend an advanced care environment with a level of comfort. With innovative ideas designed to fashion luxurious conveniences, patients are embraced with compassionate care in a healing environment.
Promising New Trends for Cancer Treatment
Turkey's newest medical developments are taking place inside its premier hospitals — accredited by the JCI (Joint Commission International) and other peer recognized accreditations. Cancer is an tremendously intricate disease which relies on a myriad of pathways to proliferate and mobilize. Cancer care specialists in Istanbul are working together to implement forward-thinking treatment options for every cancer patient, including:
Genetic Studies
Early diagnosis is crucial for protection against cancer, which becomes more widespread with each passing day. Cancer is one of the biggest health problems worldwide — genetic studies in Turkey may make it possible to prevent some cancer types by gene maps.
Radiation Oncology
TrueBeam — a revolution in cancer treatment — is the latest generation of radiation therapy technology, and is widely used at Turkey's leading hospitals. Today, radiotherapy is an alternative to surgical treatment and signifies greater improvements.
Oncologic Surgery
Gamma Knife is a stereotactic radio-surgical device that non-invasively treats malignant and benign brain tumors, vascular malformation, trigeminal neuralgia, and other forms of cancer in a painless, single visit. Gamma Knife Radiation is only delivered with a finely focused point to treat the diseased tissue, while nearby healthy tissue is spared.
Robotic surgery is the most advanced minimally invasive surgical procedure used in the world today. Turkey now offers patients an alternative to conventional open-surgical procedures for gynecological cancer and colon cancer. By integrating robotic technology with the surgeon's skill, it enables surgeons to perform with unparalleled accuracy and promotes quick healing and enhances physical and emotional well-being.
Getting the correct diagnosis and providing the best treatment options from the very first step is crucial. If you or a loved one has been diagnosed with cancer, oncologists in Turkey can provide you with high quality medical services, advanced technological infrastructure and accumulated experience for cancer treatments.
About VisitandCare.com
VisitandCare.com was created to give individuals worldwide valued direction locating a doctor, obtain free medical treatment quotes, and uncover affordable medical treatments at destinations of their choice. Improving Patients Lives |The company provides access to exclusive doctors and hospitals who specialize in infertility, plastic surgery, cosmetic dentistry, laser eye surgery, orthopedic surgery, hair transplantation, weight loss surgery, heart surgery and cancer care. Patients are matched with devoted multilingual patient facilitators and provided tangible connections to doctors worldwide. Promoting Your Healthcare Brand | For the ultimate connection between the healthcare industry and patients worldwide, the company delivers an unrivaled commitment to create sustained value for medical partners. Contact VisitandCare.com to see if you are eligible to become a partner of the exclusive network.