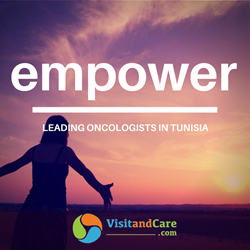 It is through innovative partnerships with medical tourism providers like Centre Médical Ibn Khaldoun that VisitandCare.com will continue to remain at the vanguard of the medical tourism industry.
New York, NY (PRWEB) May 12, 2015
VisitandCare.com partnered medical provider, Centre Médical Ibn Khaldoun in Tunisia, effortlessly fuses modern science with the art of patient empowerment. The cancer treatment hospital is committed to providing streamlined, unified treatment to fight cancer and maintain one's quality of life. The Centre's vision is an exemplary representation for patients and their families.
As leaders in their own respective fields, VisitandCare.com and Centre Médical Ibn Khaldoun, the two share a unique characteristic — the desire to give. Whether it's in providing advanced treatment for the dreaded disease or providing the opportunity for affordable, world-class oncology services, each embodies the gift of giving.
"It is through innovative partnerships with medical tourism providers like Centre Médical Ibn Khaldoun that VisitandCare.com will continue to remain at the vanguard of the medical tourism industry," stated Tolga Umar, CEO and Founder of VisitandCare.com. "It is incredible to partner with a healthcare provider who offers superior patient care, where patients can feel empowered about their cancer treatment. It is unremittingly valued when the patient feels in control of their destiny."
Empowering the Patient —
The Centre Médical Ibn Khaldoun understands that each cancer journey is filled with unknowns. With this in mind, the world-class oncologists and staff in Sousse, stress the importance of making cancer-care as relaxed, empowering and affordable as possible. The Centre offers advanced treatments and therapy for oral, urologic, gynecological, stomach, prostate, pancreatic, and colon cancer.
The goal at the leading cancer care hospital in Tunisia is to understand how cancer arises and spreads and to progress in the detection, treatment, and prevention of the life threating disease. With a rich tradition in academic oncology care and research, the center's facility is a modern architectural space, with a chemotherapy center on the ground floor to provide tranquility and well-being to the patient and the entire family.
Combining advanced cancer treatment with supportive therapies, Centre Médical Ibn Khaldoun creates an integrated treatment plan — led by a dedicated team of cancer experts who work together to provide patients with exceptional care in one location. Dedicated staff members help patients plan every detail of treatment — from the first appointment to travel arrangements. With specialists all dedicated to one goal, patients are treated like family.
Cancer Experts Working Together —
With the Centre's new model for cancer care in place, patients seamlessly transition from one treatment step to the next without unnecessary stress. A dedicated team of oncologists meet regularly to discuss the progress made — thus delivering precision treatment.
Backed by extensive experience in treating many forms of cancer, including complex and advanced-stage diseases, the cancer treatment center in Sousse excels with its progressive radiotherapy equipment. The team also provides relaxation techniques, medications and dietary recommendations to help alleviate any anxiety patients' exhibit during their cancer-fighting journey.
By empowering patients with some of the most sophisticated tools and cancer-fighting technologies available today, Centre Médical Ibn Khaldoun is making a world of difference in their contribution to changes lives across the globe.
About VisitandCare.com
VisitandCare.com was created to give individuals worldwide valued direction locating a doctor, obtain free medical treatment quotes, and uncover affordable medical treatments at destinations of their choice. Improving Patients Lives |The company provides access to exclusive doctors and hospitals who specialize in infertility, plastic surgery, cosmetic dentistry, laser eye surgery, orthopedic surgery, hair transplantation, weight loss surgery, heart surgery and cancer care. Patients are matched with devoted multilingual patient facilitators and provided tangible connections to doctors worldwide. Promoting Your Healthcare Brand | For the ultimate connection between the healthcare industry and patients worldwide, the company delivers an unrivaled commitment to create sustained value for medical partners. Contact VisitandCare.com to see if you are eligible to become a partner of our exclusive network.