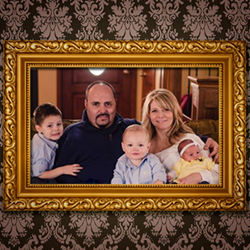 "This program makes a huge difference in the lives of local cancer survivors, their families, and their children, and we're proud to be a part of it."
Troy, IL (PRWEB) May 21, 2015
A charity program in the Troy, Illinois area, Fighting Cancer With Faith, has teamed up with Jessica Harrison Agency to support a local cancer survivor. The agency announced that they will be raising funds to help alleviate the financial burdens of the family as well as launching a referral program to help get out the message.
Roger Pense, the local man at the heart of the initiative, has been battling cancer for over a year. Roger has three children, including a baby girl born in early 2014. Roger's wife Annie is deeply appreciative of the assistance: "Hopefully he'll be feeling better very soon. He's such a brave and easy-going man. He was just so laid back and low key at his appointment, when I was about ready to jump out of my own skin. I could learn a lot from him. So we are just thanking God for the work he's doing. For giving us more time together, for the blessings. He's given us and for the work He maybe doing in all of you! God's Blessings to all of you, we love you!"
Utilizing internal resources and a professional network of clients and business partners, Jessica Harrison Agency is organizing the local community to pitch in and help Roger and his family by contacting customers, friends, family, and neighbors directly. In addition, the agency has committed to a master charity program that will assist and support a new family or individual in need every 60 days.
"I can't tell you how wonderful it is to be part of the Fighting Cancer With Faith initiative," says Jessica Harrison-Wilkins, the owner of Jessica Harrison Agency. Harrison-Wilkins has been serving the greater Troy Illinois area as a dedicated insurance agent for nearly two decades, and feels that supporting local families is the duty of all business owners. "This program makes a huge difference in the lives of local cancer survivors, their families, and their children, and we're proud to be a part of it."
More information on the Fighting Cancer With Faith program in Troy Illinois, as well as additional charity programs initiated by the Jessica Harrison Agency can be found on their website, and contributions of all sizes can be made directly to Roger and his family from the program donation page.
About Jessica Harrison Agency
Jessica Harrison was born and raised in Troy, IL and has been in the insurance agency since she graduated from college. She opened her first agency in 1998 in Troy, IL and later expanded her business by purchasing two other offices in O'Fallon and Granite City, IL. Her knowledge and understanding of the people in her community helps provide customers with an outstanding level of service. Jessica and her team look forward to helping families protect the things that are important - family, home, car and more. They can also help clients prepare a strategy to achieve their financial goals. To contact an expert at Jessica Harrison Agency, call (618) 667.8494.