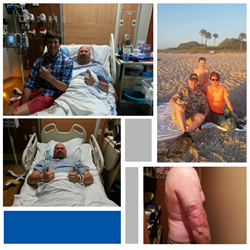 Ralph and his family need our help to get him the medical treatment he needs to beat this cancer, and our agency is going to do everything possible to assist him in this difficult time
Akron, OH (PRWEB) July 13, 2016
The Dilger-Maxwell Agency, an Ohio-based insurance provider with offices that serve communities in and around the greater Cleveland region, is launching a community driven charity initiative to raise support and donations for Ralph Hafner, an Ohio husband and father recently diagnosed with stage four metastatic melanoma.
Ralph Hafner, along with his wife Maureen and son Brandon, received the melanoma diagnosis in 2014. Melanoma is considered by medical professionals to be a rare and highly dangerous version of skin cancer, and since his diagnosis, Ralph's cancer has turned metastatic and is beginning to travel to other parts of his body. Despite this, Ralph and his family remain hopeful and are seeking additional treatment options.
"Ralph and his family need our help to get him the medical treatment he needs to beat this cancer, and our agency is going to do everything possible to assist him in this difficult time," says Tonia Maxwell, owner and manager of the Dilger-Maxwell Agency.
Maxwell and her team are actively reaching out to nearby families, business owners, and community leaders via social media and a dedicated email bulletin to share Ralph's story and gather support for his cause. The Dilger-Maxwell Agency will also be producing a feature article about Ralph in the upcoming issue of the firm's online magazine "Our Hometown": http://dilgermaxwellagency.com/Our-Hometown-Magazine_46.
Several other Ohio-based non-profit organizations and charitable causes have received support from the Dilger-Maxwell Agency over the last few months. As part of a permanent community improvement program called "Agents of Change," the firm will continue finding and working with new charities and causes in the area at the rate of one every 90 days.
Readers that want to join the Dilger-Maxwell Agency for the charity drive to benefit the Hafner family are invited to make a direct contribution to the cause from the following page: http://www.dilgermaxwellagency.com/Staying-Positive-through-Cancer_10_community_cause. Readers that want to know more about previous charities, causes, and non-profit organizations supported by the Dilger-Maxwell Agency in the past are invited to review the firm's Community Causes roster here: http://www.dilgermaxwellagency.com/community-cause.
About Dilger-Maxwell Agency
As a native of Norwalk, Ohio, Tonia Maxwell has built relationships with many families and business leaders in the Cleveland area. With her husband and four children, Maxwell understands small-town life more than most insurance providers, and her team at the Dilger-Maxwell Agency is committed to providing superior service and assisting local families as they protect what's important: your family, your home, your finances, and your life. In addition to offering local families and business owners with earnest and reliable protection, Maxwell and her team can help your family plan a strategy to reach your financial goals. To speak to a helpful representative from Dilger-Maxwell, visit http://www.dilgermaxwellagency.com/ or call (419) 668-8016.