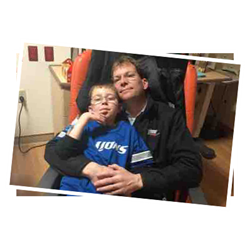 Being told that your child has cancer is one of the most devastating things you could ever hear, and this charity event will help the Miller family remain by Buddy's side during his battle with cancer
Ann Arbor, MI (PRWEB) February 15, 2017
The Cliff Hart Agencies, a family owned firm providing asset protection and financial planning assistance to multiple communities throughout Michigan, is announcing a charity event to raise support for Buddy Miller, a seven year old boy fighting against a rare and deadly brain cancer.
Braden Miller, known as Buddy to his friends, was recently diagnosed with Diffuse Intrinsic Pontine Gliomas, a rare cancer of the brain stem that cannot be removed surgically. As the Miller family explores treatment options to help Buddy during his fight against cancer, this charity event will help offset the mounting medical expenses the family will face.
"Being told that your child has cancer is one of the most devastating things you could ever hear, and this charity event will help the Miller family remain by Buddy's side during his battle with cancer," says Cliff Hart, founder and executive director of Cliff Hart Agencies.
Hart and his team have built a large following over social media channels to help share Buddy's story, and the Hart team is implementing an email bulletin system to stay in contact with charity drive supporters. Cliff Hart Agencies is also planning a full page feature on Buddy and the Miller family for publication in the firm's online magazine "Our Hometown": http://www.cliffhartagencies.com/Our-Hometown-Magazine_41.
A number of charitable organizations operating in Michigan have received direct support from the Cliff Hart Agencies over the last year. The Hart team is a member of the "Agents of Change" national charity support network, and plans to continue assisting a new regional charity every sixty days.
All readers who want to be part of the charity event to raise support and donations for Buddy Miller during his fight with cancer are invited by the Miller family and the Cliff Hart Agencies team to visit the following page: http://www.cliffhartagencies.com/Fighting-Cancer-With-7-Year-Old-Buddy_22_community_cause. More information on past and future charity initiatives sponsored by the Cliff Hart team are available on the firm's Community Causes roster: http://www.cliffhartagencies.com/community-cause.
About The Cliff Hart Agencies
As a Personal Financial Representative, Cliff Hart is acquainted with many local families. His deep understanding and personal knowledge of the people throughout the community have been key factors in helping to provide clients with an outstanding level of service. The Cliff Hart Agencies are committed to helping families like yours protect the things that are important – your family, home, car and more. The Cliff Hart team is also here to help you prepare a strategy to achieve your financial goals. To speak to a helpful and knowledgeable representative from Cliff Hart Agencies, visit http://www.cliffhartagencies.com/ or call (248) 437-1122.