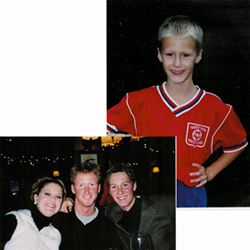 The WES charity drive is an opportunity for everyone in our community to come together and make a real difference in finding better ways to treat leukemia
Duluth, GA (PRWEB) April 12, 2016
The Borror Agency, a Georgia-based insurance firm with offices serving Duluth, Atlanta, and the surrounding communities, is joining forces with the WES Foundation in an effort to raise funds that will be used to support those struggling against leukemia.
The WES Foundation, short for "When Everyone Survives" and founded in honor of Wesley Edward Smith, is a non-profit group headquartered in Duluth. WES is committed to raising awareness of leukemia and to advocating for the advancement of new cures and treatments, as well as investing in innovative research that might lead to breakthroughs in understanding leukemia.
"The WES charity drive is an opportunity for everyone in our community to come together and make a real difference in finding better ways to treat leukemia," states Tonya Borror, founder and director of the Borror Agency.
To help spread the word about the WES Foundation charity effort, Borror and her team are building a social media platform and launching a community email bulletin to gather support from nearby families. As well, the WES charity event will be featured in an upcoming issue of "Our Hometown," an online magazine that the Borror Agency publishes monthly: http://www.theborroragency.com/Our-Hometown-Magazine_39.
The WES Foundation is only one of the first of many charities that will enjoy support from the Borror Agency in the near future. As part of an ongoing community involvement program called "Agents of Change," Borror and her team will be selecting and supporting a new Georgia based charity every other month.
To join the Borror Agency during the WES Foundation charity effort, readers are encouraged to visit the firm's dedicated donations page and make a personal contribution to the cause here: http://www.theborroragency.com/Help-The-Fight-To-Survive-Leukemia_15_community_cause. To learn more about other Georgia charities and non-profits that have been and will be supported by the Borror Agency, readers can refer to the firm's Community Causes list here: http://www.theborroragency.com/community-cause.
About The Borror Agency
The Borror Agency provides professional and dedicated insurance services not only to North Atlanta, but the entire State of Georgia. The Borror Agency specializes in assisting families with their home insurance, auto insurance, life insurance and more. As a service-oriented insurance agency, the Borror team treats clients like family, and strives to give personal attention and professional advice to help clients protect their families and their assets. Join with over 900 other families in Georgia who look to the Borror Agency for assistance with all their insurance and financial planning needs. To reach a helpful representative for the Borror Agency, visit http://www.theborroragency.com/ or call (678) 383-1998.