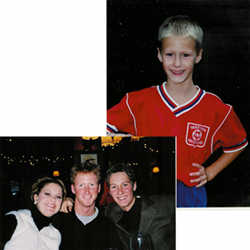 We've seen a lot of excitement and gratitude from families in the area for the WES Foundation, and we just need a bit more support from the community to help them reach their funding goal
Duluth, GA (PRWEB) June 22, 2016
The Borror Agency, a full service insurance and financial planning firm with business and residential clients throughout the northern Atlanta and Duluth regions, is continuing a charity event begun earlier this year to benefit the families of those diagnosed with leukemia.
The WES Foundation, also known as "When Everyone Survives," is a locally managed non-profit founded by the family of leukemia survivor Wesley Edward Smith. WES works to increase the amount of funding funneled into leukemia treatment and medical research. The charity event has been going on since early April and will continue for at least another month.
"We've seen a lot of excitement and gratitude from families in the area for the WES Foundation, and we just need a bit more support from the community to help them reach their funding goal," says Tonya Borror, owner and manager of the Borror Agency.
Borror and her team have already created a social media presence and started an email awareness campaign to generate publicity for the charity drive, and the team will continue gathering support from online sources. An article outlining the charity event was previously produced for the firm's monthly webzine "Our Hometown," and another such article is planned for release this month: http://www.theborroragency.com/Our-Hometown-Magazine_39.
The Borror Agency has become a participant in the national "Agents of Change" movement; as part of an ongoing community involvement effort, the firm will be working with more non-profits and charities in the Atlanta area at the rate of one every 60 days.
Readers who wish to take part in the WES Foundation charity event alongside the Borror Agency staff are invited to visit the following page and make a personal contribution to the cause: http://www.theborroragency.com/Help-The-Fight-To-Survive-Leukemia_15_community_cause. For more information on previous causes, non-profits, and charities supported by the Borror Agency, readers can visit the firm's Community Causes page: http://www.theborroragency.com/community-cause.
About The Borror Agency
The Borror Agency provides professional and dedicated insurance services not only to North Atlanta, but the entire State of Georgia. The Borror Agency specializes in assisting families with their home insurance, auto insurance, life insurance and more. As a service-oriented insurance agency, the Borror team treats clients like family, and strives to give personal attention and professional advice to help clients protect their families and their assets. Join with over 900 other families in Georgia who look to the Borror Agency for assistance with all their insurance and financial planning needs. To reach a helpful representative for the Borror Agency, visit http://www.theborroragency.com/ or call (678) 383-1998.