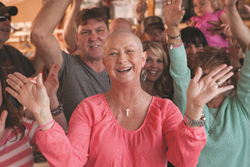 The Illinois CancerCare's Oncology Research Program is recognized as one of the best in the nation and works to improve lives and outcomes for cancer patients every single day
Peoria, IL (PRWEB) February 02, 2017
The Laure Feld Insurance Agency, a family operated firm providing asset protection services and financial planning assistance to residential and commercial clients throughout Central Illinois, is embarking on a joint charity effort in conjunction with local nonprofit Illinois CancerCare Foundation.
The Illinois CancerCare Foundation promotes cancer awareness through several community outreach programs, as well as fighting cancer directly by exploring cancer cures through nationally recognized research initiatives. The physicians and staff of Illinois CancerCare are committed to a cancer-free world, and work relentlessly to improve treatments, develop advanced therapies, and fund ongoing cancer research.
"The Illinois CancerCare's Oncology Research Program is recognized as one of the best in the nation and works to improve lives and outcomes for cancer patients every single day," says Laure Feld, owner and acting director of the Laure Feld Insurance Agency.
To promote the CancerCare Foundation charity initiative, Feld and her team are making connections with local civic leaders, families, and business owners through a dedicated social media and email portal. Future efforts to improve publicity for the ongoing charity drive will include a full length feature article scheduled to be published in an upcoming issue of "Our Hometown," the Laure Feld Insurance Agency online community interest magazine: http://feldinsurance.com/magazines/.
The charity drive to support the Illinois CancerCare Foundation is only the first of many planned by the Laure Feld Insurance Agency team. As recent entrants into the national "Agents of Change" charity support network, the Laure Feld Insurance team is committed to assisting new regional charitable organizations on a regular basis.
Readers that want to take part in the Central Illinois charity event to raise funds for the CancerCare Foundation are invited by the Laure Feld Insurance team to follow this link and take action in support of the event: http://feldinsurance.com/causes/fightcancer/. In the future, charity drives sponsored by the Laure Feld Insurance Agency will be detailed on the firm's Community Causes page: http://feldinsurance.com/community/.
About Laure Feld Insurance Agency
As a Personal Finance Representative in Illinois, agency owner Laure Feld knows many local families. Her knowledge and understanding of the people in her community ensures that clients of Laure Feld Insurance Agency are provided with an outstanding level of service. Laure and her team look forward to helping families protect the things that are most important - family, home, car and more. Laure Feld Insurance Agency also offers clients a preparation strategy for achieving their financial goals. To contact an expert at Laure Feld Insurance Agency, please visit http://feldinsurance.com/ or call (309) 682-6650 in Peoria or (217) 698-0600 in Springfield.