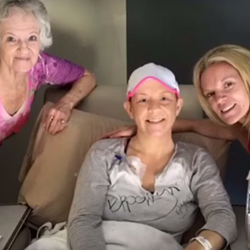 The Harpers are a wonderful family, April is a strong and courageous woman, and they deserve the help and support of this community during their time of need.
Richardson, TX (PRWEB) September 23, 2015
Leflar Insurance Agency, a locally owned insurance firm with offices that serve Richardson and communities in the north Dallas area, is launching a charity drive in support of April Harper, a wife and mother who has been diagnosed with cancer and has already undergone major surgery.
The diagnosis of bladder cancer at the age of 37 came as a complete surprise to Harper, since the disease typically attacks men in their 70s. Since being made aware of her condition, Harper has struggled through both a cystectomy and a hysterectomy, and now faces a daunting journey toward recovery. April's mother believes the cancer could be related to the military service of April's father, and she continues to campaign tirelessly for her daughter.
"The Harpers are a wonderful family, April is a strong and courageous woman, and they deserve the help and support of this community during their time of need," says Terry Leflar, owner and manager of Leflar Insurance Agency. "The funds raised from this charity drive will be going directly to the Harper family in the hopes that April's recovery is quick and complete."
Leflar and his team are reaching out to fellow community members, business associates, clients, and friends in an effort to advocate on April's behalf and to raise funds that will be used to continue her treatment. Leflar Insurance is also constructing an online social media presence that the team hopes will draw in even more support from other families and communities throughout Dallas and all across Texas.
Leflar Insurance isn't stopping with April, however, and has initiated an ongoing community involvement campaign titled 'Agents of Change.' Says Leflar, "Our Agency is dedicated to positively impacting our community by doing what we can to help others live well and thrive, and that's what this campaign is all about." Leflar has committed to assisting another local cause every 30-60 days over the months ahead.
Readers who wish to assist Leflar and his team in providing support for April Harper as she battles cancer are encouraged to drop by the Leflar Insurance website and make a direct contribution to her cause from this page: http://leflarinsurance.com/Help-a-Mother-Fight-Against-Cancer_9_community_cause. Readers who wish to keep track of the new local charities supported by Leflar Insurance are invited to visit and bookmark their Community Causes section, located here: http://leflarinsurance.com/community-cause.
About Leflar Insurance Agency
Terry Leflar has been an insurance professional for over 30 years, and the Leflar Insurance Agency was founded on the promise of professional service and solutions, financial strength, and claims satisfaction. Leflar Insurance is a service-oriented agency that has always been family owned and operated, and the goal of the Leflar team is to make clients feel like family too. Terry Leflar is a Tarleton State University graduate and holds designations as a Certified Insurance Counselor and a Life Underwriter Training Council Fellow. To speak with a helpful, knowledgeable member of the Leflar Insurance family, visit http://leflarinsurance.com/ or call 972-783-7071.