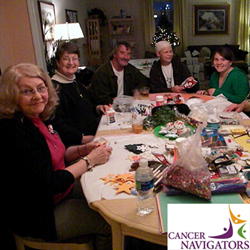 Cancer Navigators has done much to help cancer survivors in our community, and they need support from all of us to continue their mission of assisting those recently diagnosed with cancer
Rome, GA (PRWEB) June 14, 2016
Coffey Agencies, a family owned insurance firm that provides coverage to business and residential clients throughout the northern Georgia and Alabama regions, is joining forces with Cancer Navigators in a charity drive to benefit area residents struggling to overcome cancer.
Cancer Navigators works to complement medical care by providing a clearer understanding of a cancer diagnosis, and by explaining all the treatments and services available to cancer patients. By using education, counseling, and by maintaining access to information resources, Cancer Navigators is able to assuage some of the difficult emotions many patients experience while providing them a sense of control over the treatment process.
"Cancer Navigators has done much to help cancer survivors in our community, and they need support from all of us to continue their mission of assisting those recently diagnosed with cancer," says Cody Coffey, founder and manager of Coffey Agencies.
To promote the Cancer Navigators charity event, Coffey and his team are creating a social media presence and initiating an email bulletin service to provide information to local community leaders. The team also plans to produce a full page feature article outlining the charity event in the next issue of the firm's monthly webzine "Our Hometown": http://www.coffeyagencies.com/Our-Hometown-Magazine_46.
Coffey Agencies isn't stopping here – as part of an ongoing community involvement program called "Agents of Change," the Coffey Agencies team will be selecting a new non-profit in Georgia or Alabama to work with every other month going forward.
Readers who want to join the Coffey Agencies team during the Cancer Navigators charity event are invited to visit the firm's website and make a personal contribution to the effort from this page: http://www.coffeyagencies.com/Help-For-People-Touched-By-Cancer_7_community_cause. Readers who want to see more information on the growing list of charities, causes, and non-profits assisted by Coffey Agencies are invited to bookmark their Community Causes page here: http://www.coffeyagencies.com/community-cause.
About The Coffey Agencies
As a 28 year resident of Fort Payne Alabama with his wife and two children, Personal Financial Representative Cody Coffey knows many local families. A special knowledge and understanding of the people in his community ensures that Coffey and his team can provide clients with an outstanding level of service. Coffey Agencies are here to help families like yours protect the things that are important – your family, home, car and more. Coffey and his associates can also help you prepare a strategy to achieve your financial goals. To speak with a helpful and knowledgeable expert from Coffey Agencies, please visit http://www.coffeyagencies.com/ or call 256-845-3637.