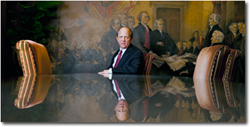 St. Louis, MO (PRWEB) September 17, 2014
Two U.S. Senators have added their voices to the group warning of the dangers associated with power morcellator surgery. In an August 19 letter to the FDA*, Senators Kirsten Gillibrand and Charles Schumer urged federal regulators to take steps to protect American patients from the risk of spreading cancer through gynecologic morcellator surgery. Attorneys handling morcellator lawsuits offer frequent morcellator lawsuit news and comprehensive morcellator claims information at the Morcellator Cancer Lawsuit Center website.
Citing new research from Columbia University's College of Physicians and Surgeons, the Senators cautioned that a rare form of uterine cancer is far more common in patients having morcellator surgery than previously believed. The letter also refers to research from Brigham & Women's Hospital in Boston, which revealed that the risk of spreading and advancing cancer through morcellation is nine times higher than surgeons had believed. Overall, the letter states, the practice of power morcellator surgery for hysterectomy and other surgeries to remove uterine fibroids is far riskier than researchers or surgeons knew.
The FDA took an initial step to caution against the use of power morcellators due to the risk of spreading cancer on April 17, 2014, according to the letter. This initial FDA safety communication suggested a panel should be convened to further assess the danger of spreading cancer by morcellator. Shortly after the FDA's safety communication, Johnson & Johnson's Ethicon division pulled power morcellators from the market, according to the letter. The Senators urge other morcellator manufacturers to issue similar recalls until more research is conducted on the risk of cancer advancement.
Persons who were diagnosed with advanced stage cancer following a hysterectomy or other uterine surgery utilizing a power morcellator device may be eligible for real compensation, according to attorneys handling morcellator claims. One such morcellator lawsuit, filed in U.S. District Court in California's Northern District** on May 13, 2014 will move forward late this month. The plaintiffs, Sarah Salem-Robinson and her husband Alan A. Robinson, are suing Richard Wolf Medical Instruments Corporation, the company that manufactures the power morcellator used in the plaintiff's hysterectomy procedure, according to court documents. Ms. Salem-Robinson was diagnosed with leiomyosarcoma, or uterine cancer just two weeks after the procedure, on May 30, 2012. A Case Management Conference will be held on September 26, 2014 at 10:00 a.m., according to court documents.
The Onder Law Firm, known nationwide for its superior work in family and product liability law, provides comprehensive information on morcellator surgery lawsuits at MorcellatorCancerLawsuitCenter.com. The morcellator attorneys offer no-cost, confidential case review to women and the family members of women who were diagnosed with cancer following morcellator surgery. Attorneys reviewing morcellator claims believe women who were diagnosed with cancer following hysterectomy or myomectomy surgery may be entitled to real compensation for the harm and damages they sustained.
The Onder Law Firm welcomes morcellator cancer lawsuit inquiries from law firms in regards to handling them or working as co-counsel.
About The Onder Law Firm
Onder, Shelton, O'Leary & Peterson, LLC is a St. Louis based personal injury law firm handling serious injury and death claims across the country. Its mission is the pursuit of justice, no matter how complex the case or strenuous the effort. The pharmaceutical and medical device litigators at The Onder Law Firm have represented thousands of Americans in lawsuits against multinational conglomerates from products liability for manufacture of defective or dangerous products to deceptive advertising practices. Other firms throughout the nation often seek its experience and expertise on complex litigation. It is also a recognized leader in products liability cases such as window blind cord strangulation. The Onder Law Firm offers information from morcellator surgery lawyers at http://www.morcellatorcancerlawsuitcenter.com.
*roc.democratandchronicle.com/assets/pdf/A2222715819.PDF
**Case 5:14-cv-02209-EJD - Salem-Robinson et al v. Richard Wolf Medical Instruments Corporation