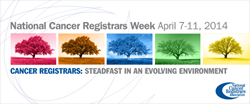 Cleveland, OH (PRWEB) April 10, 2014
In CHAMPS Oncology's most recent blog post, Celebrating National Cancer Registrars Week, Toni Hare shares her thoughts on the topic. Many people have known someone who has been affected by cancer in a way that made her first pursue a career in the cancer registry profession. Since then, her work has allowed her to provide critical information to clients, allowing them to better understand their patients and make decisions to improve care.
This week CHAMPS Oncology celebrates the cancer registry profession during National Cancer Registrars Week. The week's theme, Cancer Registrars: Steadfast in an Evolving Environment, reminds us that we are all faced with many changes in this industry, including:

Commission on Cancer Standards updates
American Joint Committee on Cancer coding changes
Rapid Quality Reporting System implementation
Hare applauds everyone in the industry during this year's National Cancer Registrars Week as well as every week of the year. Cancer registrars' dedication and passion for ensuring quality information is available to the programs and cancer patients they serve is definitely something to celebrate.
Hare closes her blog by encouraging readers to check out CHAMPS Oncology's Facebook, Twitter and Pinterest accounts throughout National Cancer Registrars Week for further recognition of the hard work cancer registrars are doing every day in this fight against cancer.
To learn more about the CHAMPS Oncology Outlook blog, visit http://www.oncologyoutlook.com.
###
In this transforming healthcare environment of patient-centered care, CHAMPS Oncology - like cancer program administrators, clinicians, industry leaders - understands the importance of quality cancer information for administrative planning, clinical outcomes and performance measures to improve quality of cancer care. CHAMPS Oncology's team of cancer information specialists and multi-credentialed certified tumor registrars (CTRs) strategically partners with cancer programs nationwide offering customized strategies and solutions that best complement the respected cancer programs they are privileged to assist. CHAMPS Oncology specializes in cancer information management, cancer program consulting, informatics, data quality and education, and quality initiatives. For more about CHAMPS Oncology, please contact Toni Hare, RHIT, CTR, Commission on Cancer-trained consultant and vice president, at 216.255.3716 or by email.