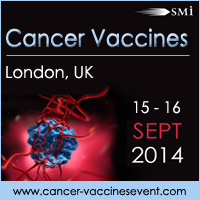 "...all sessions are incredibly exciting, but if I would have to make a choice it would be improving the success in vaccine research & development." Dr Joseph Melehorst, University of Pennsylvania
London, UK (PRWEB UK) 15 August 2014
Only 4 weeks remain until SMi open their doors to host the 3rd annual conference in the sell-out series, Cancer Vaccines.
The event, which takes place on 15th & 16th September at the Holiday Inn Regents Park Hotel in Central London, will gather leading members of the industry with an aim to enhance cancer vaccine research and development.
The cancer vaccines market is a rapidly evolving industry which, according to recent findings from Decision Resources Group, is set to reach $9 billion by 2022. With cancer vaccines known to earn higher profits owing to the nature of the disease and the urgency in the demand, Cancer Vaccines 2014 will look to explore the latest developments in oncolytic vaccines, T cell immune monitoring, cancer immunotherapy, biomarker guided development, plus much more.
An increase in clinical failures has highlighted a growing demand for combination therapies and an assessment of clinical trial design. The question to be asked is how can we learn from this and move forward to ensure drug development and regulatory approval?
This year's programme will feature a mix of case study led presentations, networking opportunities, an interactive workshop and keynote addresses that have been tailored for an audience of professionals working in the cancer vaccine market from drug design through to clinical trials and treatment.
A sample of attendees so far include:
Amal Therapeutics
Amgen Ltd
Boehringer Ingelheim RCV GmbH & Co KG
Breast International Group
Cancer Research UK
Cancer Vaccines Ltd
Crucell Vaccine Institute
Curevac GmbH
DanDrit Biotech
DROIA nv
EGIS Pharmaceuticals PLC
GSK
Hybrid Systems Ltd
Immatics Biotechnologies GmbH
Immudex
Immunicum
KACST
MediGene AG
Sartorius Stedim Biotech
Scancell Limited
St George Hospital
Theravectys
University Of Pennsylvania
University Of Southampton
University Of Tuebingen
Vaccinogen
Valneva
XEME Biopharma Inc
Key speakers will include: Tom Lillie, Oncology International Therapeutic Head at Amgen, Harpreet Singh, MD, CSO and Co-Founder of Immatics and Eric Leire, CEO from DanDrit Biotech.
A full speaker line-up, exclusive interviews and brochure is available to download at http://www.cancer-vaccinesevent.com
--END--
About SMi Group:
Established since 1993, the SMi Group is a global event-production company that specializes in Business-to-Business Conferences, Workshops, Masterclasses and online Communities. We create and deliver events in the Defence, Security, Energy, Utilities, Finance and Pharmaceutical industries. We pride ourselves on having access to the worlds most forward thinking opinion leaders and visionaries, allowing us to bring our communities together to Learn, Engage, Share and Network. We hold events in over 30 major cities throughout the world including London, Paris and Singapore and to date have welcomed over 200,000 participants from 80 countries. More information can be found at http://www.smi-online.co.uk
Sources:

http://www.fiercevaccines.com/press-releases/cancer-immunotherapy-market-will-increase-nearly-9-billion-across-worlds-ma