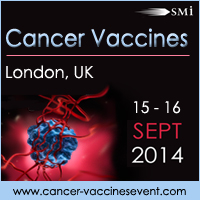 Previous Testimonial: "I found the conference very informative and the standard of the presentations was very good. I'm pleased that I attended." - Asterand
London, UK (PRWEB UK) 29 April 2014
With the global therapeutic cancer vaccines market expected to grow to a value of $7.8 billion by 2019, the 3rd annual Cancer Vaccines conference will look to mark the path forward in terms of cancer vaccine research, clinical development and regulation.
SMi have worked closely with an expert speaker panel which includes KOLs from Amal Therapeutics, Amgen, DanDrit Biotech, CureVac and Vaccinogen, to put together the 2014 conference agenda. To download a brochure and to see the full speaker line-up, visit http://www.cancer-vaccinesevent.com.
Cancer Vaccines 2014 will feature a mix of case study led presentations, networking opportunities, an interactive workshop, panel debates and keynote addresses that have been tailored for an audience of professionals working in the cancer vaccine market from drug design through to clinical trials and treatment.
Event highlights include:

A keynote address by KOL Joseph Melenhorst, Director of the Product Development & Correlative Sciences laboratory from the University Of Pennsylvania
An assessment of Oncolytic Vaccines – A review of developments from Amgen and Psioxus Therapeutics
What are the key questions in Cancer Immunotherapy? Professor Christian Ottensmeier attacks this question head on.
Evaluating analytical advances for Cancer Vaccines with an insight from Key Opinion Leaders at Immatics GmbH, Vaccinogen and the University of Southampton
Panel debate on regulation and clinical trial design
Interactive workshop hosted by Vaccinogen entitled: Tumour Genomic Heterogeneity in Immunotherapy
Further details are available online at http://www.cancer-vaccinesevent.com.
For those who are interested in attended, there is currently a £300 early bird discount for bookings made by 30th May.
Cancer Vaccines 2014
15-16 September
Holiday Inn Regents Park, London UK
http://www.cancer-vaccinesevent.com
Sponsored by Immudex and Scancell
About SMi Group
Established since 1993, the SMi Group is a global event-production company that specializes in Business-to-Business Conferences, Workshops, Masterclasses and online Communities. We create and deliver events in the Defence, Security, Energy, Utilities, Finance and Pharmaceutical industries.
We pride ourselves on having access to the worlds most forward thinking opinion leaders and visionaries, allowing us to bring our communities together to Learn, Engage, Share and Network. We hold events in over 30 major cities throughout the world including London, Paris and Singapore and to date have welcomed over 200,000 participants from 80 countries.
More information can be found at http://www.smi-online.co.uk.