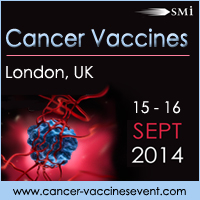 "We hope to reach out to cancer vaccine developers aiming at helping with elucidating the tumor-specific responses elicited by their therapeutic approach" Immudex
London, UK (PRWEB UK) 29 May 2014
Based on positive results from a phase 1 trial, Immatics GmbH, together with its collaborators Cancer Research UK and Cancer Research Technology, announced last month that they have entered a license agreement in which Immatics will continue to develop its cancer vaccine IMA950 for glioblastoma, the most common and lethal adult brain tumour.
Hear more from Immatics at SMi's 3rd annual Cancer Vaccines conference during a keynote presentation entitled: Biomarker-guided development of novel cancer vaccines, from off the shelf to actively personalised. Topics from the address by Co-Founder, Managing Director and Chief Scientific Officer, Harpreet Singh will include:
1. The discovery of novel antigens for cancer immunotherapy using high-throughput mass spectrometry
2. Biomarker-guided clinical development of such novel antigens in renal, colorectal and brain cancer
3. Moving beyond current concepts of personalized medicine: actively personalized vaccines in glioma
Attendees will also be able to hear from industry KOL, Dr Jos Melenhorst from the University of Pennsylvania who will be providing unique insights into the "perfect partnership" with Novartis. The university director from the Product Development & Correlative Sciences Laboratory will speak on combination therapy, T cells and infusion of cells following chemotherapy.
For further details and to download a brochure visit http://www.cancer-vaccinesevent.com
For those who are interested in attending there is currently a £300 early bird discount available online which expires on May 30th 2014.
A snap shot of those who have confirmed attendance include:
Amal Therapeutics, Amgen, Boehringer Ingelheim, Cancer Vaccines Ltd, Crucell Vaccine Institute, Curevac, DanDrit Biotech, GSK, Hybrid Systems, Immunicum, University Of Southampton, University Of Tuebingen, Vaccinogen
CANVER VACCINES
Quantify Strategies to Enhance Cancer Vaccine Research and Development
15-16 September 2014
Holiday Inn, Regents Park Hotel, London UK
http://www.cancer-vaccinesevent.com
About SMi Group
Established since 1993, the SMi Group is a global event-production company that specializes in Business-to-Business Conferences, Workshops, Masterclasses and online Communities. We create and deliver events in the Defence, Security, Energy, Utilities, Finance and Pharmaceutical industries.
We pride ourselves on having access to the worlds most forward thinking opinion leaders and visionaries, allowing us to bring our communities together to Learn, Engage, Share and Network. We hold events in over 30 major cities throughout the world including London, Paris and Singapore and to date have welcomed over 200,000 participants from 80 countries.
More information can be found at http://www.smi-online.co.uk.