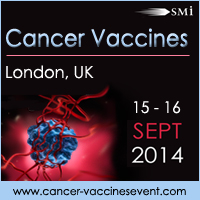 "...all sessions are incredibly exciting" - Dr Joseph Melenhorst, University of Pennsylvania
(PRWEB UK) 3 September 2014
Just a fortnight remains until the 3rd annual Cancer Vaccines conference takes place in Central London. The global industry event has attracted attendees from all over the world including Australia, Belgium, Denmark, France, Germany, Romania, Saudi Arabia, Spain, Sweden, Switzerland, United Kingdom and USA.
EVENT HIGHLIGHTS INCLUDE:

Academia and Pharma, the perfect partnership: Dr Jos Melenhorst from the University of Pennsylvania, will be providing a unique presentation into the "perfect partnership" with Novartis. The University Director from the Product Development & Correlative Sciences Laboratory will speak on combination therapy, T cells and infusion of cells following chemotherapy. "Glimpse into the world of immune-gene therapy and how that has played out with recombinant receptors...all sessions are incredibly exciting" - Dr Melenhorst
Insights from Vaccinogen on tumor genomic heterogeneity: Michael Hanna, Chairman and CEO, will be discussing the impact of antigen discovery for cancer vaccines, direction on patient selection strategies and will provide a current update on the potential for development of epitope based vaccines for treatment and development. Vaccinogen expand further into their presentation in a detailed post conference workshop entitled: Tumour Heterogeneity in Immunotherapy, taking place on 17th September. "There is considerable excitement regarding immune suppressive checkpoint molecules that prevent immune destruction of established tumors." - Dr Hanna
University of Southampton answer key questions in Cancer Immunotherapy: Hear Professor in Experimental Cancer Medicine and Honorary Consultant in Medical Oncology, Christian Ottensmeier, answer crucial questions in Cancer Immunotherapy such as; How can we assess the tumour? How can we measure success? What can we learn from failure? This will be followed by a keynote address from CRUK Senior Lecturer in Head and Neck Surgery, Dr Emma King in a presentation entitled: Head and neck cancer immunotherapy - translating laboratory science into a clinical program. Topics covered will include a look into HNSCC immunotherapy and the setting up of informative clinical trials.
European Commission Vaccine Prize winners CureVac, present an update on pivotal RNActive® trials: CureVac will be presenting their findings in an exclusive talk entitled: RNActive® for Cancer Immunotherapy. Harnessing the natural power of the immune system to fight the disease and an update on current trials, will be just some of the topics addressed by Program Management Oncology Director, Dr Birgit Scheel.
Scancell present plenary paper : Prof. Lindy Durrant, Joint CEO, will be presenting a paper entitled "Phase I/II trial of a novel antibody DNA immunotherapy, SCIB1 ImmunoBody which targets CD64, in the treatment of Melanoma" The paper will describe interim results, as at December 2013, from the Company's ongoing Phase I/II trial. Of the 25 patients recruited at that time, 23 were treated with SCIB1 per protocol. Of these, 20 patients were considered to have shown an immune response.
This is just a snippet of what will be covered. Other speakers will include Amal Therapeutics, Amgen, Psioxus Therapeutics, Immudex, Immunicum, DanDrit Biotech, plus many more.
Click here to see the full speaker line up, short interviews and conference programme.
Due to high demand, availability to attend the 3rd annual instalment is now strictly limited. Registration will be closing soon, to secure attendance book online at http://www.cancer-vaccinesevent.com
END
About SMi Group:
Established since 1993, the SMi Group is a global event-production company that specializes in Business-to-Business Conferences, Workshops, Masterclasses and online Communities. We create and deliver events in the Defence, Security, Energy, Utilities, Finance and Pharmaceutical industries. We pride ourselves on having access to the world?s most forward thinking opinion leaders and visionaries, allowing us to bring our communities together to Learn, Engage, Share and Network. We hold events in over 30 major cities throughout the world including London, Paris and Singapore and to date have welcomed over 200,000 participants from 80 countries. More information can be found at http://www.smi-online.co.uk