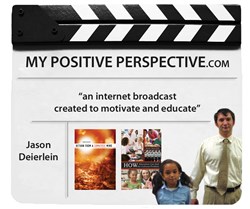 Chase After a Cure Gala is in its sixth year.
Charleston, SC (PRWEB) January 21, 2014
On January 21, 2014, My Positive Perspective host Jason Deierlein was joined by one of the founders of the Chase After a Cure Golden Gala, Adam White. At the beginning of the episode, Deierlein asks White, "How did you get the idea to start this event?" White responds, "About six years ago, I met the Ringler family and they had a son who was diagnosed with stage four neuroblastoma cancer which is a childhood cancer. I noticed their son Chase was in a stroller not able to do much so I inquired about him. Once I found out what Chase had to overcome, I immediately wanted to help. I helped organize the first Chase After a Cure Gala and everything went from there."
Deierlein then says, "This year we are fortunate to have Elise Testone doing the entertainment. Elise was an American Idol finalist and we are fortunate to have talent, generous people and businesses along with a fabulous setting here in Charleston." White responds to this statement, "We sure are, everybody who came to the first gala has come back for the sixth. We are fortunate to have Elise perform at this year's gala, she is an amazing talent. We have asked her to perform some of that golden era of music."
Deierlein then says, "At last year's gala, there were some amazing food vendors, are some of them going to be back this year?" White responds, "Oh yes, we have Burwell's, Wasabi, Epicure Catering, Salt house Catering, and several others."
My Positive Perspective is a media outlet believing that improvement in our community will be best achieved by focusing on the good things happening in our world today. Having survived a near fatal car accident as a youth, a shift of perception forced one to have a mentality of always concentrating on the brighter sides of things. This was true, and in my book, Return From a Comatose Mind, this belief was put to the test. Appreciation for life was the biggest thing one took away from my brush with death, and it is because of that gives me such a huge desire to be helpful to many. My Positive Perspective is a way of overcoming challenges through positive thinking.