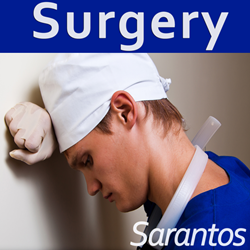 I know its probably not a subject that is appealing to the radio charts, but I felt the need to do it anyway. I truly feel patients will find this relatable and find a sense of calm in listening to this before any procedure!
Park Ridge, IL (PRWEB) September 01, 2015
Sarantos Releases A New Rock Song About A Subject Rarely Discussed In Popular Hit Songs On The Radio - Surgery.
Has there ever been a hit song on the radio about having surgery? Sarantos listens to all types of music and honestly cannot recall one. Staying true to a necessary rock theme for a song as powerful as this topic needs was critically important for Sarantos. It had to be a rock genre as pop just wouldn't fit the mood. The song "Surgery" is now released and although it is doubtful that hospitals and doctors offices will be playing this in their waiting rooms and preoperative areas, Sarantos is sure that any patient undergoing surgery will find a sense of serenity and peace in listening to this song sometime before their surgery in the privacy of their own mind.
Unfortunately, in one's lifetime the odds are almost 100% that surgery will become a necessary reality for all of us. It can be called a procedure or deemed outpatient or minimally invasive but the undeniable reality exists - surgery is surgery. There is some inherent uncertainty. For people not in the medical field, there is a fear that is real and not imagined. Surgery does not ever come with guaranteed results. Even a world renown surgeon will readily admit this. It does not matter if it is open heart surgery or the birth of a child or cancer surgery or cosmetic surgery. Ultimately, all one can do is put their lives in the hands of an experienced anesthesiologist and surgeon and hope & pray for the best!
Having undergone surgery himself, Sarantos recently got the chance to spend time as a patient. There was a fear inside that cannot be denied although almost everyone indeed tries to deny it. Anyone who has ever had surgery can relate to this defense mechanism though it is not commonly discussed openly. Regardless of how easy the surgery is touted and despite being 99.9% sure that the result will be favorable, in the depths of our minds, there is a palpable sense of doubt and anxiety. This song was born after Sarantos underwent an upper endoscopy which found an esophageal stricture and chronic eosinophilic esophagitis (allergic reaction). The opening had closed down to about the size of a straw! No wonder Sarantos was having difficulty for the last four years with eating and intense pain. Thankfully, all is better now and despite needing a few more procedures, Sarantos has been pain free for almost 6 months now. Of course, Sarantos is enjoying eating large portions of cookies and ice cream and all kinds of desserts again without any limitations. Vocal experts everywhere claim this daily dairy intake is also helping his voice out (This is completely the opposite of what they say but as his social media fans can confirm, Sarantos loves dessert and so he eats it anyway).
"This is a powerful rock song about someone having surgery," says Sarantos. "Surgery is what they need, even though they are scared and terrified inside their own mind. Until you are in these shoes, it is hard to imagine what patients go thru. There is a sense of fear that is real despite what people portray on the outside. I really felt that I had to write a song about surgery and what is going on in the depths of a patient's mind before a procedure. I searched and searched and although I found a few songs about surgery, nothing specific stood out and certainly nothing that made it to the top of the charts. I know its probably not a subject that is appealing to the radio charts, but I felt the need to do it anyway. I truly feel patients will find this relatable and find a sense of calm in listening to this before any procedure and admitting to themselves that it's ok to accept this fear as a normal part of the process. Acceptance can be therapeutic. They can then deal with this event and move on with their lives."
Sarantos won the Akademia LA Music Awards in 2015 for Best Song (What If I Never See You Again), Best Rock Song (Easy To Believe), Best Rock Music Video (We Accept The Love We Think We Deserve), Best Singer/Songwriter Song (A Mission Of Heart, I Sing), Best Pop Song (I Sing) & Best Pop Rock Album (Not Where I Wanna Be).
Sarantos has won 10 Beat 100 song & music video awards in 2015 and 2014. Sarantos was nominated for the International Music & Entertainments Awards in 2015 for "Rock Song of the Year" and in 2014 for "Rock Song of the Year" and "Pop Album of the Year." In 2014, he was also nominated for the Hollywood Songwriting Awards for Best Unsigned Song (Are You Sure You Can Last).
Even without a label or radio promoters, Sarantos song "What If I Never See You Again" has been in the top 200 on the majors list in the US for radio airplay according to the Digital Radio Tracker Top 200 charts. On the independent charts, Sarantos is still in the top 10. He's been on both these lists since early April.
33% of any music-related sales profits from this song are going straight to Helping Hands Surgical Care.
Helping Hands Surgical Care is a non-profit organization whose mission is to fund and facilitate surgeries for uninsured and underinsured patients who are unable to pay for medically necessary surgeries. They dedicate their efforts to transforming the quality of life for those they serve, regardless of their ability to pay..
*Because Sarantos wants his music shared throughout the world, fans can always find all of his songs, lyric sheets, videos and books on his website for free. He openly gives everyone the right to share his song mp3s for free with anyone they want via email or any of the social media platforms.
**Fans can sign up for his free email list to get the inside scoop first and exclusive content available nowhere else.
http://www.melogia.com
https://www.facebook.com/Sarantosmelogia
http://www.twitter.com/sarantosmelogia
http://www.youtube.com/user/SarantosMelogia
Sarantos' iTunes & Apple Connect:
http://bit.ly/SarantosAppleStore