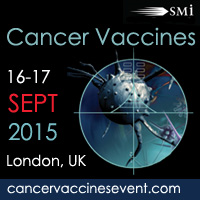 "What interests me most is getting the big pharma viewpoint on combination immuno-oncology." - Dr Thomas Felzmann
London, UK (PRWEB UK) 20 May 2015
SMi's Cancer Vaccines conference will once again gather a global audience of principle scientists, medical directors, academia and leading pharmaceutical organisations involved in oncology, immunotherapy and vaccines for a packed 2 day agenda. Day 1 will address topics such as formulation development strategies, anti tumour response, combination therapies, tumour host interactions and oncolytic virotherapy, while Day 2 explores vaccinology, allogenic cell based vaccines and gene editing.
A keynote presentation from Activartis CEO, Thomas Felzmann, will be just one of the highlights on the agenda for 2015. Leading scientist, Dr Felzmann, will be providing an industry perspective on combination therapies with a focus on patient outcomes. The case study driven address will explore multi-modal cancer immunotherapy as well as offer guidance on prognostic and predictive markers to support identification of effective immunotherapy combinations.
When asked about this year's event he said:
"What interests me most is getting the big pharma viewpoint on combination immuno-oncology. I'm also keen to hear about the immuno-oncologists' current opinion regarding individualised cellular cancer immunotherapy."
On the future of personalised cancer therapies, he commented:
"Whether or not personalised cancer immunotherapies will become accessible on a broad basis will mainly depend on the cost-effectiveness of immuno-oncology. In times with health care budgets stretched to their limit, another expensive therapy that may gain patients a few months on average will be difficult to finance. We, therefore, need to find the means to identify the patients on the far right side of the survival bell curve before the cancer immunotherapy has started. If we accomplish this resulting in survival of several years for responding patients, personalised cancer immunotherapy will become reality and will be available for everybody how needs it."
"We are certainly closer to a success in immuno-oncology as we were a decade ago. But the continued tinkering with selected components of the immune system is not the way to establish a prospering immuno-oncology space. A physiologic immune response is never based on a single mechanism, e.g. just killer cells or just antibodies. It's always a combination of all the immune systems components. The immune system doesn't stop half way; it always goes the full distance. Why should anti-tumour immunity be any different? Hence, this question brings me back to the beginning: we need to combine immuno-oncology concepts into multi-modal cancer immunotherapy strategies firing with all the immune system's various guns. But in order to do this in a meaningful way we first need to more deeply understand the immune system in general and anti-tumour immune responses in particular."
Further information and a full speaker line-up is available at http://www.cancervaccinesevent.com
The full interview can be read in the conference download centre on the event website.
4th annual Cancer Vaccines conference
16 – 17 September 2015
Marriott Regents Park Hotel, London UK
http://www.cancervaccinesevent.com
---END---
About SMi Group:
Established since 1993, the SMi Group is a global event-production company that specializes in Business-to-Business Conferences, Workshops, Masterclasses and online Communities. We create and deliver events in the Defence, Security, Energy, Utilities, Finance and Pharmaceutical industries. We pride ourselves on having access to the world's most forward thinking opinion leaders and visionaries, allowing us to bring our communities together to Learn, Engage, Share and Network. More information can be found at http://www.smi-online.co.uk