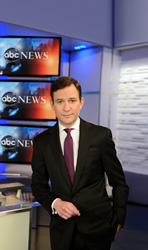 "The excitement over Dan Harris visiting Houston for CancerForward is palpable. His message about meditation is of-the-moment, and is of great interest to many here in the world's largest medical center." Beth Sanders Moore, Founder, CancerForward
HOUSTON, TEXAS (PRWEB) October 27, 2014
CancerForward: The Foundation For Cancer Survivors will present ABC News anchor and New York Times best-selling author, Dan Harris in Houston Wednesday, November 12 in the first Texas stop of his national book tour. Harris' recently-released book "10% Happier" tells of his 2004 live-on-national-TV panic attack that led to Dan's personal experience with daily meditation.
Harris will keynote We Can Go Forward, CancerForward's annual forum for cancer survivors and caregivers, where he'll share how meditation and mindfulness have entered the mainstream cancer care continuum. Harris argues a meditation practice of even five minutes a day offers a way to get happier that is truly achievable. After locating research that suggests meditation lowers blood pressure and essentially rewires the brain, Harris has enlightened an underreported world of CEOs, athletes, physicians and military leaders who now use it for increased calm, focus and stress-management.
Serving as 2014 chairs of We Can Go Forward are New York-based fashion designer Bill Hamilton, Houston philanthropist Denise Monteleone, PaperCity Magazine executive editor Kate Stukenberg, and Beth Sanders Moore, founder and chair of CancerForward. Said Moore, "The excitement over Dan Harris visiting Houston for CancerForward is palpable. His message about meditation is of-the-moment, and is of great interest to many here in the world's largest medical center."
With the goal of raising awareness of restorative cancer caregiving, the event also marks the second annual presentation of The H. Rudy Teichman Anchor of Strength Award to a couple widely-known as compassionate cancer caregivers: Rolanette and Berdon Lawrence. Thousands of cancer survivors are served annually through The Rolanette and Berdon Lawrence Bone Disease Program of Texas, created by a visionary gift of Mr. and Mrs. Lawrence and operated in a unique collaboration between Baylor College of Medicine and The University of Texas MD Anderson Cancer Center.
The forum is funded by a grant from The H. Rudy Teichman Family.
ABOUT CANCERFORWARD
CancerForward: The Foundation For Cancer Survivors is a free web-based networking and educational resource for cancer survivors of all ages and all types of cancers. More than 500,000 individuals have turned to CancerForward since it was founded in June, 2010. The Foundation's nonprofit mission is to connect, educate and share information among cancer survivors, empowering them to move forward with their lives. Its goal is to reduce the risk of recurring and second cancers by extending healthy lifestyle and after-treatment survivorship planning to all.
ABOUT DAN HARRIS
Leading the next generation of ABC News, Dan is the co-anchor of both ABC News' "Nightline" and "Good Morning America Weekend." For four years he anchored "World News Sunday." He frequently files reports for "World News with David Muir" and ABC News Digital and ABC News Radio. A protégé of Diane Sawyer and the late Peter Jennings, Harris received both an Edward R. Murrow Award and an Emmy Award before reaching age 40. In spring 2014 – with the publication of his first book, "10% Happier: How I Tamed the Voice in My Head, Reduced Stress Without Losing My Edge, and Found Self-Help That Actually Works, A True Story" – Harris added New York Times best-selling author to his credits.
Harris is the son of two Harvard-based oncologists. He currently lives in New York City with his wife, Bianca, a pulmonary oncologist at Memorial Sloan Kettering Cancer Center.