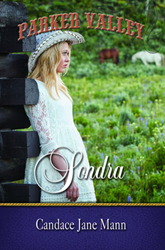 …You should be known for the beauty that comes from within, the unfading beauty of a gentle & quiet spirit, which is precious to God.
(PRWEB) April 21, 2015
Author Candace Mann is re-launching her Parker Valley Series, heartwarming books that will show readers just how to hold on to their families and move on after tragedy. Candace is a family woman herself, as she lives in Florida and Ontario with her husband Michael, with whom she has two grown kids who have seven children of their own. She has a large and loving family and is able to expertly write about what it is like to struggle with different issues but still maintain your familial relationships.
The Parker Valley Series follows four sisters in the wake of their parents' untimely and tragic death, examining how each sister faces their own personal challenges and moves past the tragedy they all experienced. Each book is told from the perspective of a different sister and focuses on their own lives as well as how they interact with one another. The first book in the series, Sondra, is being launched with updated content through Next Century Publishing on April 21, 2015.
This book follows the journey of Sondra, the oldest sister, who must figure out how to keep the family ranch in her possession after her parents' passing. While she is able to financially secure the ranch for a time, Sondra realizes that there are many more obstacles that stand in the way of the girls' lives on their family's land. In order to figure out how to save the future of Parker Valley Ranch, Sondra will need the help of a mysterious stranger who just might be able to teach her important lessons in life as well as love. As you read this moving story, you will be inspired in your own life to work through any obstacles that you yourself might be facing.
Purchase your copy of Sondra here http://www.nextcenturypublishing.com/product/parker-valley-sondra/.
Candace Mann:
As a Christian counselor and author, Candace Mann has a heart for helping others through sound Scriptural advice and recommendations. Her books are meant not only to entertain but also to help young people gain a better understanding of their own struggles with today's issues.