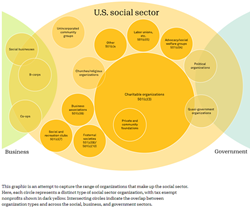 Candid's U.S. Social Sector Dashboard is designed to help create an understanding of the surprisingly large segment of U.S. society.
NEW YORK (PRWEB) October 20, 2021
Candid released today the U.S. Social Sector Dashboard to help people better understand the U.S. social sector. This free resource provides data to explain the sector's scope, constraints, and potential.
The U.S. social sector's significant—and surprising—reach

There are 1,812,815 nonprofits in the United States. Of the total U.S. nonprofits, 1.3 million are 501(c)(3) public charities, and 126K are 501(c)(3) private and community foundations.
The U.S. social sector employs more than 12 million people.
U.S. nonprofits have $3.7 trillion in aggregate annual revenue and $2.9 trillion in aggregate expenses.
Yet, despite the significant scope of the social sector, many are unfamiliar with what it consists of and how it is structured. Candid created the U.S. Social Sector Dashboard to answer these and other questions regarding the field. This publicly accessible tool includes key data and insights about the makeup and impact of civil society. It also features data that Candid is sharing for the first time on leadership racial identity, funding flows to charities, and more. The dashboard is designed to help create an understanding of this surprisingly large segment of U.S. society.
What is the U.S. social sector?
The social sector is distinct from that of business and government (though there is overlap between the sectors).
Additionally:

In addition to registered nonprofits, the U.S. social sector also includes social businesses, political organizations, religious organizations, unincorporated community groups, and other institutions.
The top public charity subject areas are religion (18 percent) and human services (17 percent). Charities working in the areas of social science, science and engineering, international relations, and agriculture, fishing, and forestry each account for less than 1 percent of public charities.
142K nonprofits have zero employees, while 19K have more than 160 employees.
Montana, Vermont, and Iowa have the highest number of nonprofits for every 10K residents. Utah, Arizona, and Nevada have the lowest number of nonprofits per 10K residents.
Among reporting nonprofits, 60 percent of nonprofit CEOs identify as White; 10 percent of CEOs identify as Black; 5 percent as Latinx; 3 percent as Asian/AAPI; and 1 percent as Indigenous. Twenty-one percent of nonprofit CEOs identify as multiracial/multiethnic, additional ethnicities, or did not disclose.
Jacob Harold, executive vice president at Candid, says, "Candid exists to get people the information they need about the social sector to do good. Many of our tools focus on one organization, one grant, or one issue at a time; that kind of focus can be critical for decisionmakers. This new dashboard builds on that focus by offering a fuller picture of the social sector as a whole. We hope that this tool will help people build a better understanding of the nonprofit and philanthropic ecosystem and its central role in our society."
Candid will host a free webinar on the U.S. Social Sector Dashboard on Wednesday, October 27 at 2pm ET/11am PT. Ivonne Simms, program manager, will moderate the webinar. Anna Koob, director of research standards, will provide an overview of the dashboard, and Mary Steyer, director of communications, will highlight how nonprofits, funders, and the general public can utilize the dashboard.
Visit Candid's U.S. Social Sector Dashboard at https://candid.org/us-social-sector. The dashboard was made possible by generous support from Amazon Web Services (AWS) and Vanguard Charitable.
About Candid
Every year, millions of nonprofits spend trillions of dollars around the world. Candid finds out where that money comes from, where it goes, and why it matters. Through research, collaboration, and training, Candid connects people who want to change the world to the resources they need to do it. Candid's data tools on nonprofits, foundations, and grants are the most comprehensive in the world. In 2019, Foundation Center and GuideStar joined forces to become Candid, a 501(c)(3) nonprofit organization. Find out more at candid.org and on Twitter @CandidDotOrg.