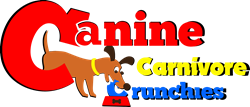 Simple is better, pure is preferred!
(PRWEB) November 16, 2015
The new pet treat company Canine Carnivore Crunchies, which features single ingredient products, from beef liver to chicken feet and turkey hearts, came about in an unusual way. When Hollywood screenwriter Ellen Green retired, she had free time on her hands for the first time in years and promptly signed up for dog agility classes with her Labrador Retriever, Scout. Agility is a competitive sport that tests a handler's skill as they run their dog through an obstacle course configuration of jumps, ramps and tunnels. The sport requires conditioning, concentration, training and teamwork.
"I was hooked," say Ellen. "To me, it seemed like when I used to take the kids to Kiddie Gym, but now I got to go out and play too."
It being a sport, she realized the importance of good nutrition for the athlete dogs, and that included a raw diet and healthy treats for training. The latter proved hard to find.
"Even the treats called 'natural' seemed to contain fillers or binders, even sugars. And then there was the problem of knowing – or rather, not knowing – where the ingredients really came from."
She soon began to make her own, turning liver and chicken into single ingredient, crunchy training treats. Friends began to ask for samples, then friends of friends and before long Canine Carnivore Crunchies was born.
"I didn't intent to start a company but clearly there is a void in the marketplace, and pet owners are smarter and more informed these days and want the best for their pets. We believe treats can be not only nutritious but tasty, and shouldn't contain extra ingredients that dogs don't need. Simple is better, pure if preferred!"
Check out the new trend in treats at http://www.caninecarnivorecrunchies.com or email info@caninecarnivorecrunchies.com for more info.