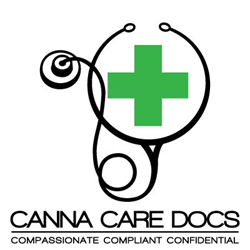 CompassionateCompliantConfidential
(PRWEB) December 04, 2015
Medical Marijuana company proves to be socially responsible.
Canna Care Docs is proud to announce they've already hit $220,000.00 in free evaluations; discounts; and their goal is to hit $250,000.00 by April 20, 2016!
Since opening their doors in 2013 Canna Care Docs has offered patients with severe debilitating conditions free or reduced cost evaluations. People with these conditions are often faced with financial challenges and Canna Care Docs is there to help them gain safe access to medical marijuana.
Canna Care Doc's policy is "no patient should face criminal prosecution for their choice of natural medicine because of an inability to pay." Canna Care Docs operates 18 clinics in 6 states: Delaware, Rhode Island, New Hampshire, Maine, Massachusetts and Connecticut. Canna Care Docs has conducted numerous in home visits to patients who are unable to leave their homes due to serious illness as well as bedside hospital visits at metropolitan hospitals.
Canna Care Docs has always offered Veterans a 10% reduction on evaluations. Canna Care Docs holds periodic Veterans Events that offer free evaluations for our country's veterans who suffer from a qualifying condition. Thousands of our Veterans who suffer from a wide array of debilitating medical conditions have been greatly benefited by Canna Care Docs.
"As medical Marijuana Specialists we are proud to offer safe access to our communities."

Canna Care Docs Chief Operating Officer - Marta Downing
Here's what a few of their patients have to say…
"I'm proud to pay my full evaluation costs knowing what Canna Care Docs does for my community."

"Dad and I were a bit nervous about the medial marijuana program until our first visit at Canna Care Docs where they made us feel very comfortable and informed about our decision."

Charles - who brought his father in - Hyannis, MA
"I'm now a proud Delaware Medical Marijuana Card Holder!"

For more information on Canna Care Docs please contact them at:
781-382-8053
marta(at)cannacaredocs.com