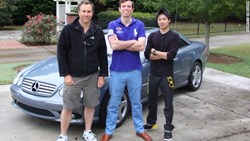 Mercedes CL55 AMG
London, UK (PRWEB UK) 1 November 2013
It is a story reminiscent of the 1982 Burt Reynolds Comedy "Cannonball Run". In the film, Reynolds and a cast of colourful characters try to cross the 2800 miles from New York City to Los Angeles. The movie is based on an actual race that occurred in the 70's in which the record of 35 hours and 53 minutes was established. That record was broken in 2006 by Alex Roy and David Maher when they accomplished the feat in 31 hours and 4 minutes.
Well, now a new record has been set. It was set by a Lamborghini salesman and two accomplices. Not in a Lamborghini mind you, but in a Mercedes CL55 AMG. This was not a decision that the organizer took lightly. He had started researching the trip over 4 years ago and began planning 18 months ago.
He looked at phases of the mood for the greatest light at night and carefully planned the best route. He lined up friends to run ahead of him, looking for construction delays and police cars.
He would need a car with power, acceleration and reliability. It would have to be comfortable to drive, and be comfortable for his co-driver and spotter. It would need a high top-end speed and yet use efficient fuel consumption. When it was said and done, he chose a Mercedes CL55 AMG.
At over 115,000 miles it had more miles on it than a used Mercedes CL at L&L Automotive would have, but he obviously felt comfortable with the car's reliability under extreme conditions. He modified the Mercedes CL55 AMG, adding two extra gas tanks into the boot to limit stops, and placing the spare tyre in the rear seat with the spotter.
He hired a tracking company to verify the trip and used a police radio scanner and various radar detecting devices to assist the run. In addition, he installed a kill switch for his rear lights.
Off they went, reaching a top speed of 158 miles an hour. When it was over, the trio succeeded in setting a new record of 28 hours and 50 minutes for the coast to coast trip. They averaged 98 miles per hour over the trip, and the tracking company verified that they had only stopped for a total of 46 minutes during the excursion.
We're not mentioning the Lamborghini's salesperson's name in this article. We'll just take his choice of vehicles for his historic run as a compliment. No need to rub it in.
END
Author: David Newman from Mercedes-Benz Hertfordshire
About Mercedes-Benz Hertfordshire - L & L Automotive
L&L Automotive is the driving force behind a dynamic retail network aimed at enhancing sales and after sales services for the region's existing and prospective Mercedes-Benz, AMG and smart customers.
Encompassing retail outlets in Bishop's Stortford, Hertford and Stevenage, the group is operated by L&L Automotive – a company boasting a lengthy and successful history.
L&L's Mercedes-Benz businesses moved into Hertfordshire in July 2002, when it was selected as one of Daimler UK's key business partners in establishing a revitalised national retail structure.
L&L Automotive. is a company registered in England and Wales with company number 4415393
VAT No. 794 6047 92
Mercedes-Benz of Stevenage : 01438 737800
Mercedes-Benz of Bishops Stortford : 01279 719333
Mercedes-Benz of Hertford : 01992 514444