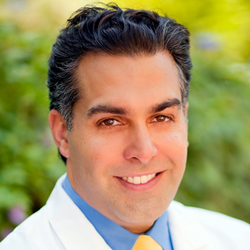 Canoga Park, CA (PRWEB) June 27, 2014
Canoga Park dentist, Dr. Amir Choroomi, is now offering a special on porcelain veneers that can help patients make the best decisions for their needs. A great smile can lead to a great first impression. Many people feel self-conscious about their smiles, but porcelain veneers are a popular and extremely effective way to completely transform one tooth or many teeth.
About Dr. Amir Choroomi
Dr. Amir Choroomi is a top Canoga Park dentist with a commitment to providing his patients with the best possible care in a friendly, compassionate environment. After graduating from the University of the Pacific Dental School in San Francisco, one of the nation's premiere dental schools, Dr. Choroomi continued his education in other fields of dentistry. He uses the latest procedures and most advanced techniques to ensure the best results, and he is an active volunteer in the community. He has established 101 Dental to provide comprehensive treatments for area patients and offer treatments such as dental implants, tooth extraction, Invisalign and teeth whitening.
This special includes a complimentary cosmetic consultation complete with before and after pictures. This consultation can include information about various cosmetic options, including dental veneers. The images can reveal the potential transformation with the recommended treatments or procedures. Canoga Park dentist Dr. Amir Choroomi can help patients create the best treatment plan for their needs and smile goals. The images can be adjusted to address specific concerns or goals.
Dental veneers are cosmetic restorations that are versatile enough to be used to correct chipped, worn, discolored or misaligned teeth. They can usually be placed in just two to three dental visits, and they can last 15 years or longer. These thin shells fit right over the tops of teeth with minimal preparation and offer a durable, stain-resistant restoration. Most patients with good dental health and mild, moderate or severe aesthetic flaws are candidates for veneers.
Some patients may benefit from alternative cosmetic treatments, including teeth whitening or smile makeovers. Patients may also benefit from restorative treatments, such as dental fillings or porcelain crowns. Dr. Choroomi's office offers an in-house dental program and accepts most forms of dental insurance. They also offer 0 percent financing plans and offer discounts for qualified patients.