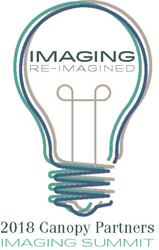 Great networking event and a way to get the pulse of other radiology practices.
GREENSBORO, N.C. (PRWEB) November 07, 2018
Canopy Partners, a North Carolina based healthcare technology company, hosted its fifth annual Imaging Summit on Thursday and Friday, October 18th and 19th, 2018 at the Umstead Hotel and Spa in Cary, North Carolina. The Umstead is North Carolina's only Forbes Five Star and AAA Diamond Hotel and Restaurant.
The theme for the 2018 Canopy Summit was "Imaging Re-Imagined". Radiology and Imaging executives from across the country were invited to this one-of-a-kind industry event which focused on putting radiology back in the center of healthcare. The educational sessions were designed to help imaging businesses position themselves for future survival, growth and success in a rapidly evolving healthcare market. The event featured an all-star lineup of industry experts and thought leaders.
The Summit was attended by 145 imaging executives representing 83 imaging businesses from 29 states and three countries. The attendee demographic breakdown was 63% private practice radiology, 16% outpatient imaging centers, 5% health system based imaging and 16% other. Twenty one of the Top 100 independent U.S. radiology practices (according to 2018 Radiology Business rankings - http://www.radiologybusiness.com) were represented, including 5 of the Top 10.
Keynote speakers included:

Robert "Dusty" Staub, Staub Leadership International
Lea Halim, Senior Consultant, The Advisory Board Company
Dr. Michael Brown, Managing Partner, Carolina Radiology Associates
The event also featured a series of Imaging Innovation Labs that devoted to topics including:
How to determine the valuation of your imaging business
Growth and business development strategies
Merger, joint venture and acquisition options
The pros and cons of remaining independent vs selling your practice
Sharpening your competitive edge
Artificial Intelligence: fact vs fiction
Unified radiology IT platforms
The conference received an overall Net Promoter Score (NPS) of 97 out of 100 from attendees. Here's what a few participants had to say:
"Great networking event and a way to get the pulse of other radiology practices."
Dr. Satish Mathan - President & Managing Partner, Raleigh Radiology
"Absolutely awesome event and educational for radiology practices' strategic planning and continued success with infrastructure/tools for more efficiency, etc."
Cindy Keesee - Practice Administrator, High Plains Radiological Association
"The event is 'first rate' in all facets. Well attended and organized, excellent content."
Parke Keith - Practice Administrator, Radiology of Huntsville
To learn more about this event or to add your name to the distribution list for the 2019 Imaging Summit, please visit the Canopy Partners website or contact Event Manager, Mallory Mast, at 336-235-2257.
About Canopy Partners
Canopy Partners is a privately held healthcare technology company that specializes in medical billing, business analytics, information technology, and management consulting services. The company is focused on elevating the role of medical imaging in the healthcare value chain. Canopy creates flexible, customer-driven business solutions that improve its client's productivity, profitability, and patient care.
To learn more, please visit http://www.canopy-partners.com