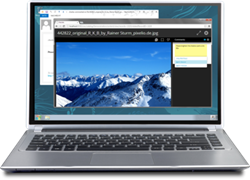 Cumulus 9.2 introduces new enterprise workflow management capabilities.
San Francisco, CA (PRWEB) December 09, 2014
Canto, a leading provider of digital asset management solutions, today announced the availability of Cumulus 9.2 with several new features making it easier than ever for enterprises to provide global access to digital content.
"In addition to serving up large files from the edge of the internet via a content delivery network (CDN), the Amazon S3 Asset Store for Cumulus allows organizations to take advantage of the elastic performance of Amazon's 'pay for what you use' pricing model for the physical storage of digital assets," declared Jack McGannon, CEO of Canto. He continued, "With Cumulus' new hybrid cloud option, we tackle the full spectrum of enterprise IT digital asset management needs, offering Cumulus also as perpetually licensed on-premise software and as a cloud-hosted managed DAM."
Cumulus 9.2 delivers better workflow management, well suited for defined, high volume tasks, as well as informal one-off requests that need to be tracked. Cumulus 9.2 replaces previously tedious manual work steps with automated status-based review and approval cycles.
Highlighted features of Cumulus 9.2 include:

Amazon S3 Asset Store for Cumulus gives multi-location organizations quick, local access to assets without having to set up replicated servers.
All new enterprise workflow management meets the demand of today's fast-paced digital content lifecycles.
Social DAM, which refers to social-network style collaboration involving digital assets, such as @mentioning users for ad-hoc work steps, customized notifications, asset subscriptions and improved workflow with freelancers and contractors.
Emails triggered in Cumulus now reinforce branding with customizable templates.
Prefiller in the Cumulus Web Client solves a common challenge with any DAM, forcing users to enter metadata fields upon upload.
Plugins are now possible for the Cumulus Web Client via SDK, for greater customization.
Numerous user experience enhancements speed asset management in the Cumulus Web Client, such as advanced drag n' drop and more intuitive navigation.
For further information, see the Cumulus 9.2 information page or click here for the What's New in Cumulus 9.2 blog post.
About Canto
Canto is driven by delivering digital content more intelligently. This has made the company a global leader in the digital asset management community. By always putting the focus on its users, Canto delivers scalable software and services that match customer demands. More than one million users from a wide spectrum of market segments have trusted Canto's expertise since the company's founding in 1990. Canto is based in San Francisco (USA), Berlin and Frankfurt (Germany) and serves a worldwide customer base in close cooperation with its worldwide partner network. For more information visit canto.com