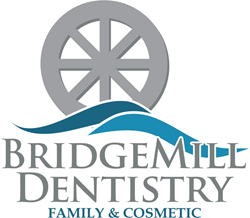 Each member of team shares an incredible commitment to provide the very best care to our patients.
Canton, Georgia (PRWEB) April 11, 2016
BridgeMill Dentistry was recently named the best dental office in the Canton, GA area in Canton Family Life Magazine's annual award program. This is the second consecutive year the highly-regarded health care provider has earned the top spot, and the twelfth year it has been recognized by a community publication. Selection is based on the votes of the magazine's readership and other community members, and recognizes those businesses which provide excellent products and services to Cherokee County residents.
BridgeMill Dentistry Founder, Dr. Scott Merritt, believes the honor represents the hard work his team puts into providing the very best treatment to all patients. "Each member of team shares an incredible commitment to provide the very best care to our patients," said Merritt. "There are lots of choices for dental care in and around Cherokee County, and we feel blessed to have earned the trust of so many community members."
BridgeMill Dentistry provides comprehensive dental care for patients of all ages, from routine cleanings and check-ups to challenging cosmetic procedures. The practice is well-known for both the quality of care it provides, and the friendly, family-like environment patients enjoy when they visit the office. Dr. Michael Cox believes that this is one of the characteristics that truly sets the practice apart. "We have created a very comfortable environment for patients, which includes a friendly and knowledgeable staff as well as a state-of-the-art facility. It's our goal to have patients look forward to coming to see us because they are treated like family and have complete confidence in the care they receive."
About BridgeMill Dentistry: BridgeMill Dentistry has been providing top dental care to adults and children for over 14 years. With two experienced dentists, six hygienists, and seven support staff, the practice provides comprehensive care that includes everything from routine cleanings and check-ups to sophisticated periodontal, restorative, and cosmetic procedures. The office serves residents of Canton, GA, as well as patients from Kennesaw, Marietta, Woodstock, Ball Ground, and north through Jasper and the surrounding areas.