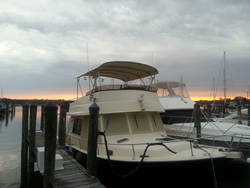 We really like the UV resistance, durability and easy cleaning of Seaboard HDPE. - Dan Wood, owner of Canvas Creations, whose customers contact him from all over to upgrade their boats
Scranton, PA (PRWEB) June 26, 2014
Canvas Creations of Annapolis, MD, has selected Vycom's Seaboard (TM) material as a solution for retrofitting the tops of sailboats, trawlers, cruisers, and center console boats with an upgrade that performs far beyond fiberglass or canvas tops. The company's fabrication partner, Plastic Supply of PA, Inc. of Pottstown, PA recommended Seaboard HDPE by Vycom as the perfect material solution that is low-maintenance, long lasting, and has great impact and stiffness for the application of hardtops.
"We really like the UV resistance, durability and easy cleaning," said Dan Wood, owner of Canvas Creations, whose customers contact him from all over to upgrade their boats. "The tops are formed solid panels that are welded together, so there are no zippers, threads, or other metal fasteners that can rust and be tough to deal with on enclosures," says Wood. Another big advantage of using Seaboard HDPE is that once he sends a pattern from a metal frame to his fabrication partner, Bill Creadon at Plastic Supply, they can custom fabricate the top to fit existing boat frames. "That is so important because it doesn't disrupt the aesthetic design of the boat," says Creadon, "It fits to a tee and enhances the overall look."
According to Creadon, the surface finish does not allow dirt, pollen, or bird droppings to stain or attach to the surface. "We find Seaboard HDPE to be impervious to the elements whether it's rain, snow, or ice," he said.
Seaboard HDPE can be machined and hot-air welded which allows it to be contoured into just about any shape for the end user. These unique material properties along with the versatility of welding, forming, machining, and sanding, yield solid panels that are water and wind resistant. The colors, which are resistant to sunlight and moisture, include Mercury Gray, Sandshade, Polar White, and Seafoam. "We chose these colors for their soft appeal and low heat generation, providing a cooler environment within the boat," said Creadon.
Wood mentioned that unlike a canvas top, hard to clean mildew doesn't build up on Seaboard HDPE. "I wanted the boat tops to be as maintenance-free as possible, as well as affordable," he said.
The boat tops are also very easy to assemble and install. The design accommodates the stainless steel and aluminum frames with reduced expansion and contraction between the metal and plastic. As a recent example, Wood and Creadon constructed a large top in two pieces in order to transport it to Annapolis, welded it into one 11 X 12 ft. piece on-site, and crane lifted the finished top onto a 40 foot trawler. Wood then fitted the hardtop with acrylic panels that are glued to fabric material and fastened to the deck.
As added features, Canvas Creations also has curtains, covers, solar panels, and LED lights built into the tops. Wood will be exhibiting the innovative boat tops at the United States Sailboat Show held in Annapolis, Maryland the first weekend in October 2014. Check them out there or visit their websites at http://www.canvascreationsinc.com and http://www.plasticsupply.net. For more information about Seaboard HDPE, visit http://www.vycomplastics.com.